Hi Christa,
Just wanted to update you and let you know that our boy Adrian made his appearance on Monday morning! He is a lovely chunky thing and weighed in at 4.3kgs!
It was the most amazing experience! Such a great labour and birth. We used all our techniques and stayed home for most of it. I think I was so calm that the midwives at birth unit didn't take my call seriously! My water broke at 5am and we quickly went to the hospital. By 6.10 I had the urge to bear down (on the toilet!) so quickly rushed to the bed and instinctively got on all fours. Bub was out in 10. Doctor missed the birth as I was already 9cm when they called her! Midwives were great and let me do my own thing.
Every single nurse and midwife that comes in is surprised when they find out he was a natural birth with no pain relief. I still can't believe I did it but it was so empowering. I told Michael straight after "I could do that again!"
Thanks again for everything you taught us and for all you support.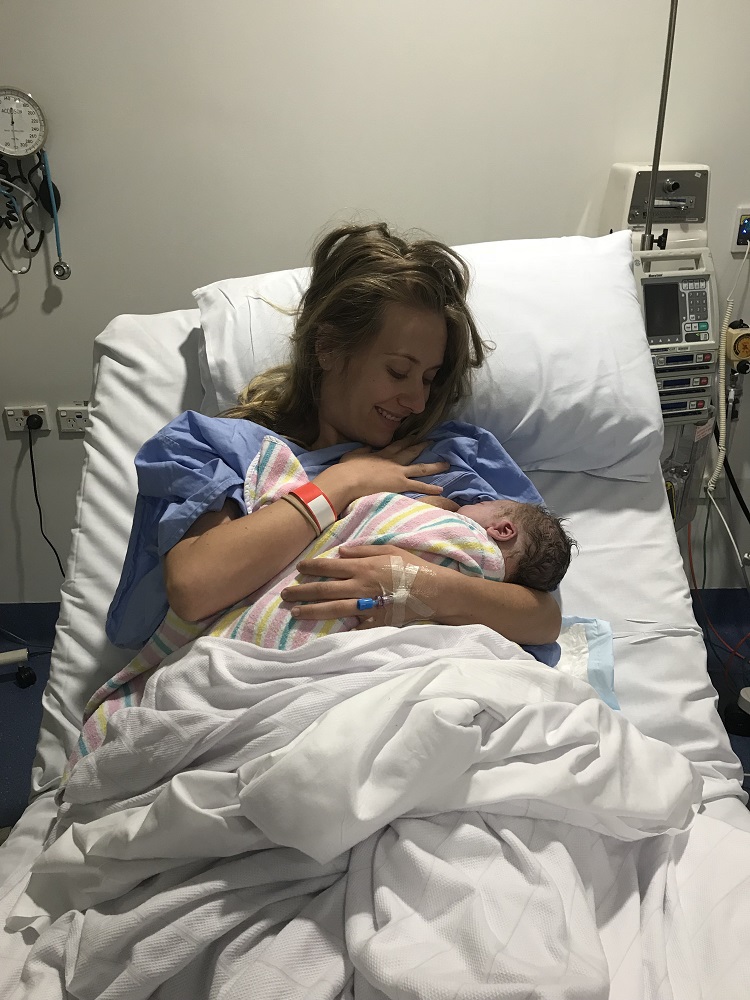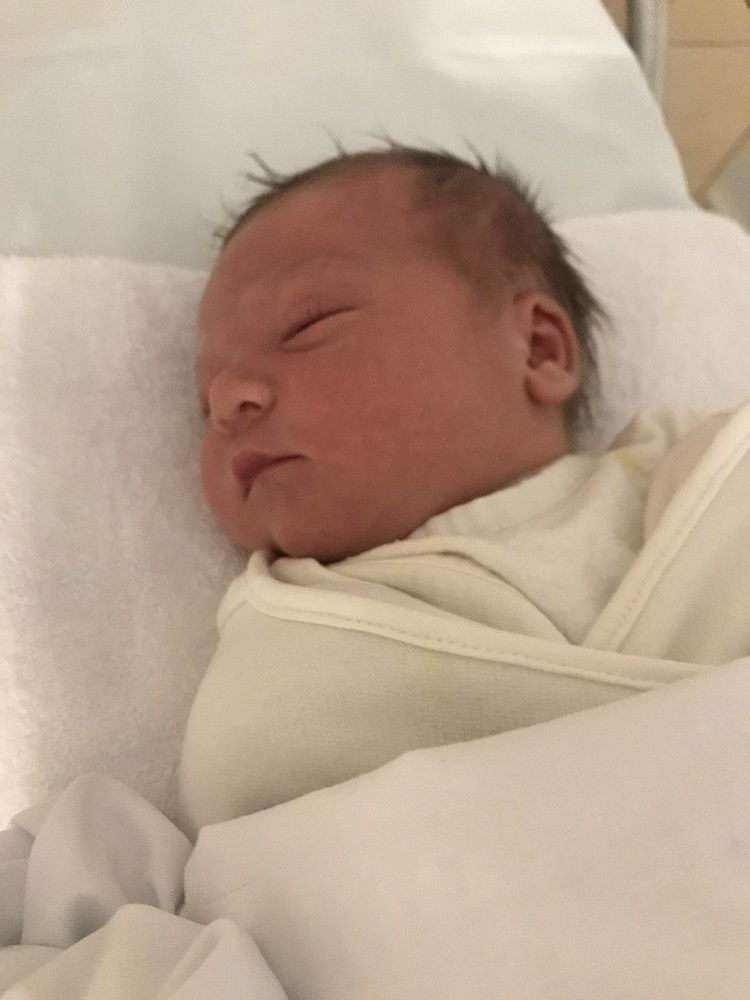 Hi Christa
I'm finally getting the chance to sit down and tell you of the birth of our daughter and little cutie Leela Evie-Fae Sturzenbaum who was born on Monday January 16th at 9:45pm, she was 50cm long and 3.4kg.
I was 41 weeks when I started getting regular contractions at 5am, I had been getting Braxton Hicks for the week prior, and with Leela being very active all night the combination meant no sleep. Early on the 16th I noticed that the tightening was coinciding more with a general abdominal ache and started timing, the ache became stronger and more regular, and my stomach started getting upset, so at 9am I told hubby Rob that I thought today would be the day and we called our doula Casey from Motherbirth.
We stayed home listening to the hypnobirthing tracks, listening to and looking at my affirmations and using the birthing ball until about 1pm when we decided to head to the hospital. The surges had been getting more intense and I wanted to be more mobile during them (and not in the car) as things progressed. I was assessed at the hospital and decided to have a vaginal exam to check my dilation which at that stage was 4cm. We were then moved to a birthing suite. Rob turned off the lights and put on our hypnobirthing tracks and an oil diffuser.
My waters broke very suddenly when I was sitting upright so I then found a comfortable position on the floor leaning over a birthing ball and didn't really move too much from that spot! I had planned on using the bath but didn't end up doing so once I found a comfortable spot on the floor!. After a few hours I was getting uncomfortable so I moved over and leant over the bed so I could rest more between the surges. At around 3pm I was fully dilated (Casey was aware of this but didn't tell me until later) and felt like baby was coming very soon. After pushing for several hours Leela still hadn't arrived and there was some meconium in the water so the midwife recommended I move up onto the bed to hopefully speed things up. I hadn't wanted to birth on the bed but decided to by lying on my side where I'd have more hip movement. It was actually a relief to lie down after so long and Casey held my leg to keep my pelvis open.
I used my hypnobirthing breathing but had to make my noises a bit more internal near the end to help push the baby out. After 7 hours of pushing I was exhausted and finally Leela was born at 9:45pm. One of my biggest fears had been tearing or having an episiotomy but thankfully I only had slight grazing. Unfortunately we couldn't do the delayed cord clamping as it had already stopped pulsating due to the length of the pushing phase. Thankfully bub was okay and didn't need any interventions. We had early skin to skin and I was lucky to be able to breast feed in the first hour.
We had declined the oxytocin injection for the third stage, opting to wait up to an hour but after 40 minutes the midwife and doctor were concerned that I was bleeding a fair bit and began massaging my stomach. I found that very uncomfortable so at that point I asked for the oxytocin which sped things up a little. The doctor was prepping to do a D&C so I asked for some gas while the doctor continued the massage and doing cord traction as I felt very tender, luckily that worked very quickly and things resolved.
We are so grateful for the hypnobirthing course and your help, we wrote a birth plan which helped us decide and clarify the experience we hoped for (which the hospital was great about and followed), the affirmations kept reminding me of the end result when I was getting tired and the breathing kept me focused at times when I felt I was getting distracted. I felt very confident leading up to the day, knowing that it was a natural process and my body and baby knew what to do. It helped relieve a lot of the fears that I had about the unknown of giving birth for the first time. Having Casey as doula, in addition to my husband (and Mum and sister) was a great support and gave me encouragement during labour, Casey also arranged placenta encapsulation for me and I found I had energy in the days following and no baby blues. We are very happy with the outcome, I had no interventions, no tearing and no drugs for the birth which I never would have thought I could do! It was the most amazing day of my life, very challenging but so worth it. I'd recommend hypnobirthing to anyone, the confidence of being so well prepared with knowledge really made the experience fantastic.
Thank you from all of us!
Geraldine, Robert and Leela.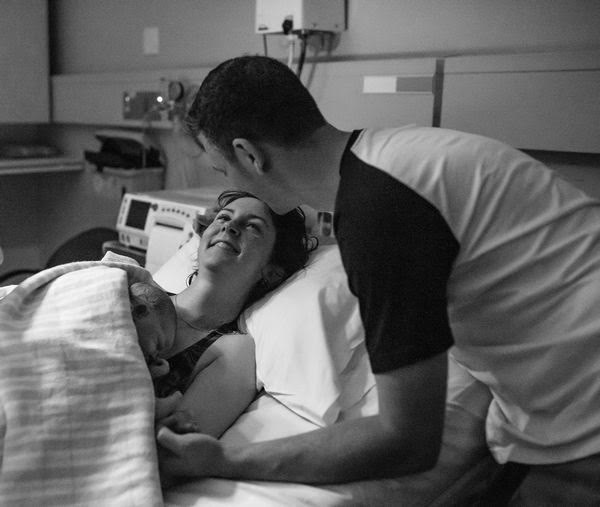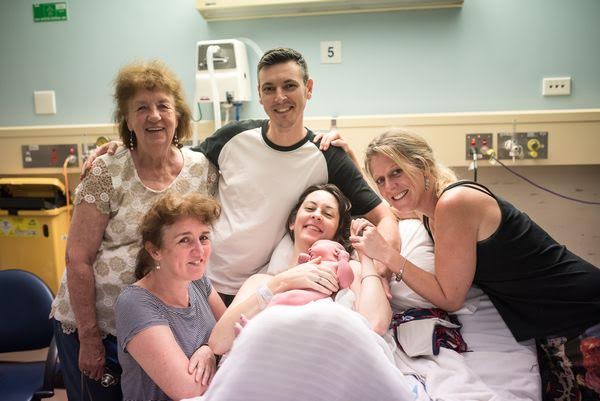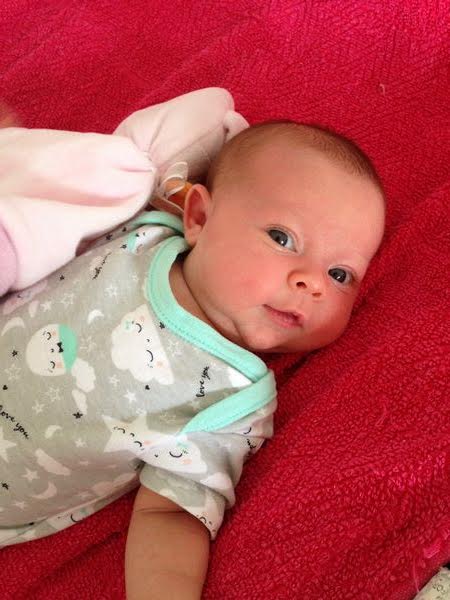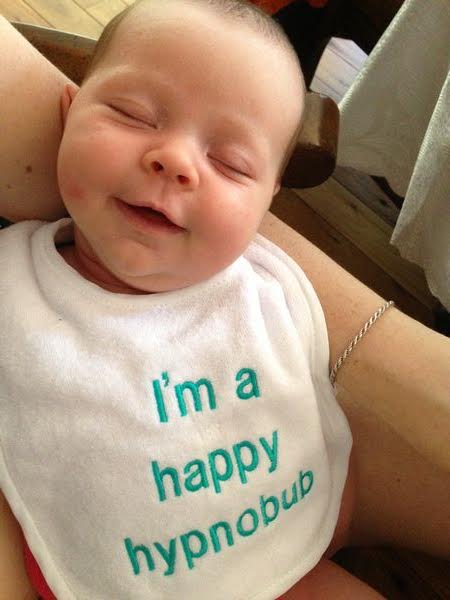 Hi Christa,
Just wanted to say thank you again for the hypnobirthing course my husband and I attended. I gave birth to a healthy baby boy on Monday 13th Feb and even thought it ended up nothing like I planned and in an emergency cesarean I know that I would not have coped as well as I did without your course and the birthing techniques you taught us. I had an elective cesarean first time around and was depressed about it. This time I felt empowered, and confident in my decisions and now proud of myself for what my body achieved. Thank you for helping me heal this mental wound I had surrounding birth!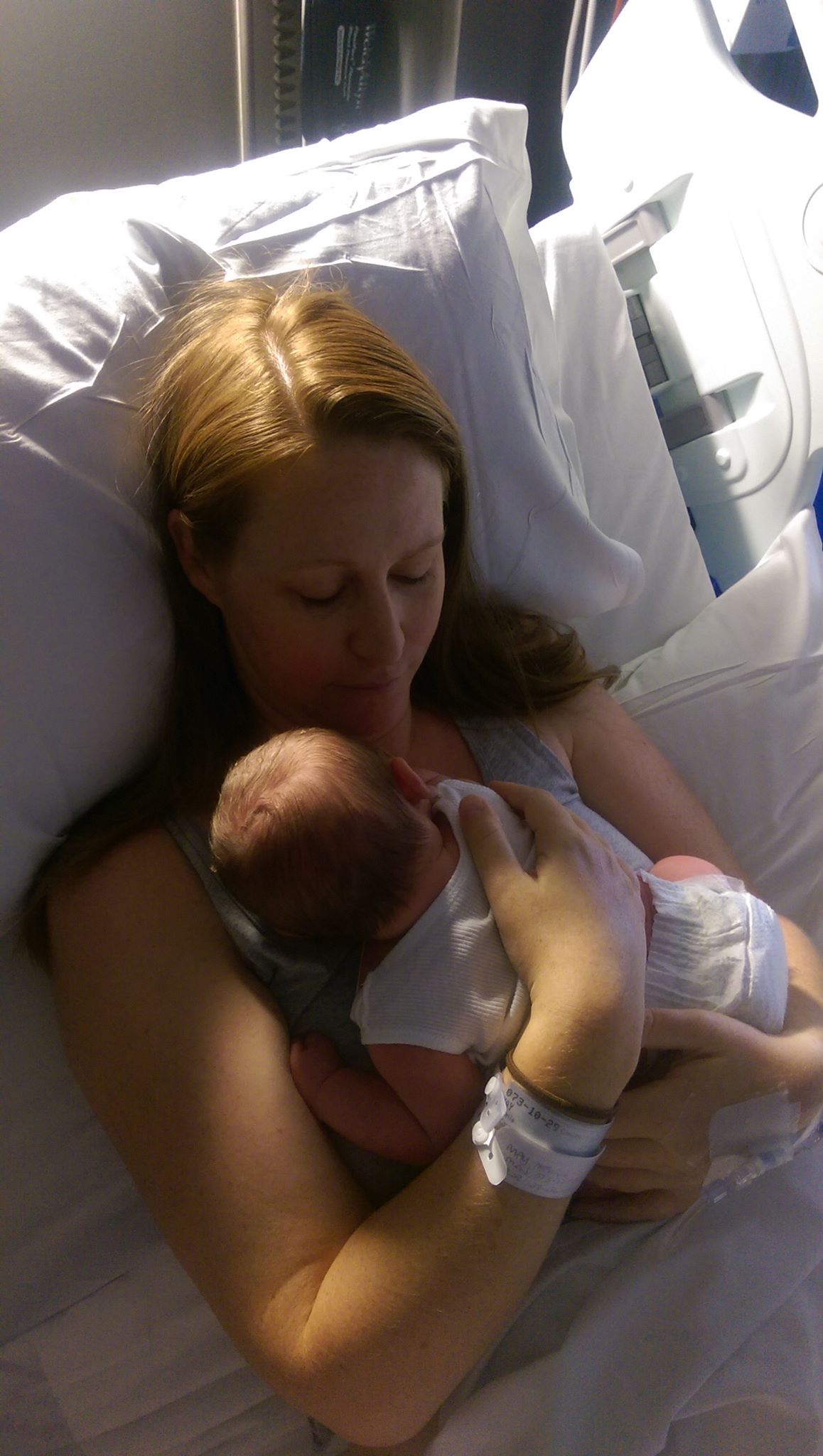 Hi Christa !
Just wanted to let you know we had our beautiful boy Jasper Hamilton Jenkins on October 26th at 11:26am! <3 He weighed 3.6kg and was 56cm long! I was 41+2 weeks pregnant when my waters broke and there was meconium in the waters meaning that the hospital wanted to monitor bub's heart rate the whole time... so I wasn't able to move around as much as hoped! However we had our amazing hypnobirthing environment set up with the soundtrack playing and dim lighting etc and I used my breathing and sounding for 10/11 hours and surprised all the midwives when they realised how I was progressing without much fuss. I was able to get in the bath for a bit as well which was nice.
Everything I learned from you was AMAZING for 11 hours in hospital and despite a few complications I mostly birthed very happily and pretty naturally (I had some syntocinon at the end when I freaked about pushing and my contractions slowed - totally fear/mind/body/related - everything we talked about!)
So what I'm saying is thank you a million! We are so happy that the course helped us with smooth sailing for hours, and also helped us to continue smoothly and with a sense of empowerment when things didn't go exactly as hoped!
Xx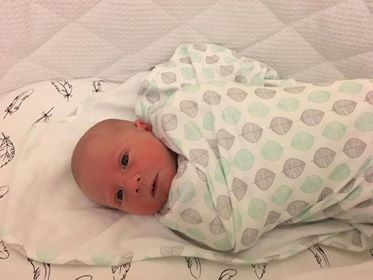 Hi Christa, I just thought I would let you know our little princess arrived on Friday! This is Esme Florence Sophie Childs, she was born at 00:51 on the 14/10 after my waters broke at 3pm on the 13/10. She weighed 4.03kg! I was able to quite easily breathe through the first phase using the hypno birth techniques and was fully dilated by 11pm on gas only which I started at 5cm when I got in the bath (when I arrived at hospital). I had to get out of the bath when I was fully dilated as there was meconium in the waters and this brought me unstuck as I couldn't use gas in the 2nd phase and I wasn't comfortable in any "land" pushing positions. I pushed for 90 minutes and it turns out my pubic bone position was preventing her getting around the "s-bend". Esme was getting tired so we ended up having a forceps delivery and episiotomy. She wasn't hurt at all in delivery (unlike me!!!) and was in my arms within 2 pushes.
I am so grateful to have done the course as I honestly coped like a dream getting to 10cm, and I believe if I didn't have to get out of the bath and Esme didn't get stuck then I would have been able to get through the whole thing without too much trouble at all. As much as I didn't want a forceps delivery when they handed her to me and it was all over in a few minutes I was so relieved as my pushing was getting me nowhere for 90 minutes.
Thank you for sharing your knowledge and expertise!!! We really enjoyed the course and it helped both Nick and myself get through one of the most intense and rewarding days of our lives!!! Xx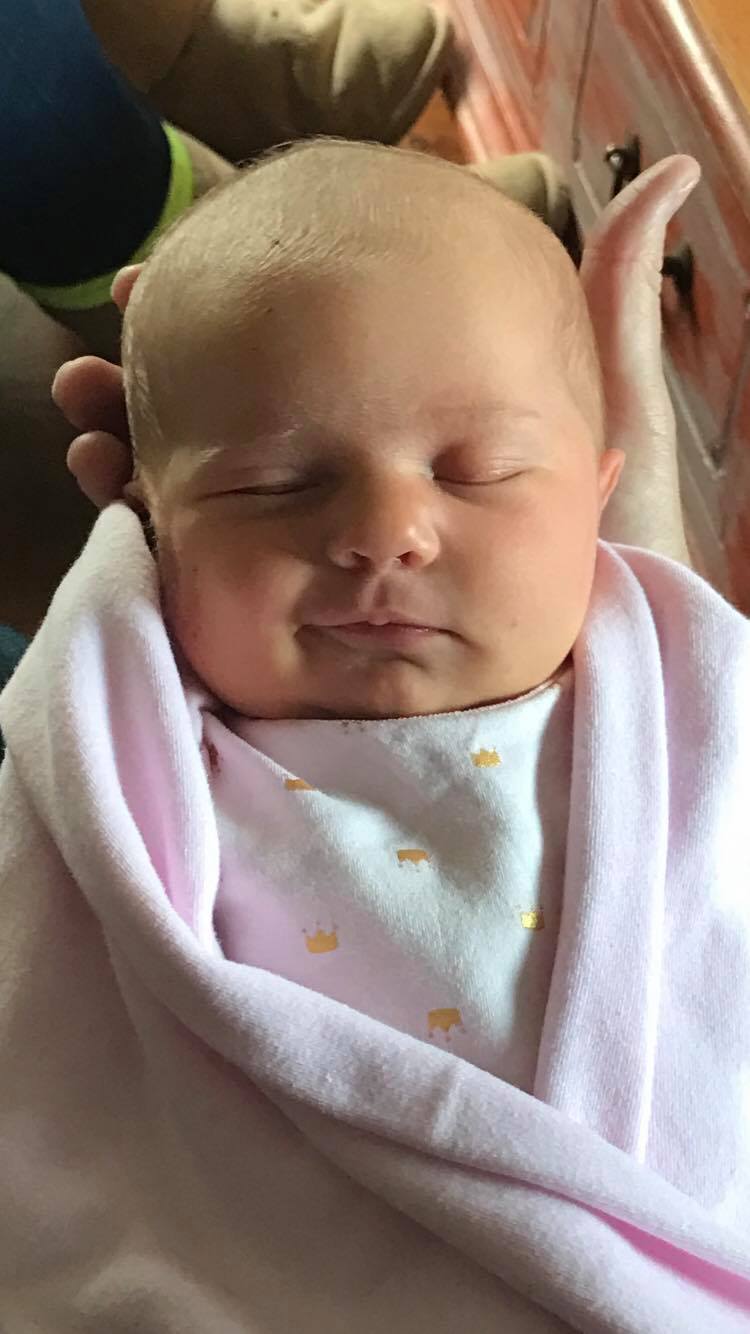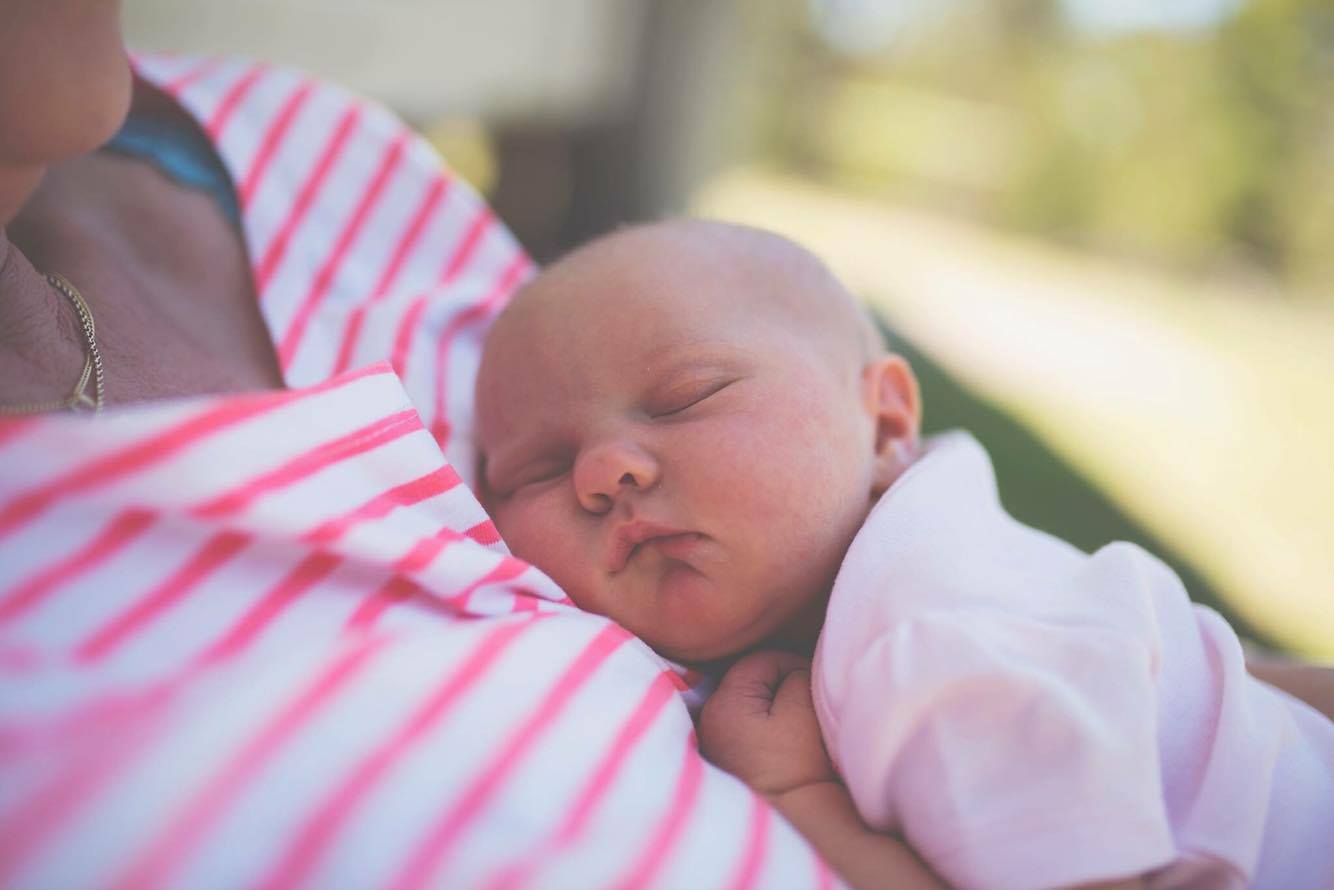 To say that I was petrified to give birth would be an understatement! Having been a caesarean baby myself I had resigned myself to the fact that I too would likely have a caesarean. I felt that opting for a caesarean would allow me to avoid my fear of giving birth vaginally and would allow me some control over the birth of my baby; in a situation that I perceived to be very uncontrollable. However, my partner felt quite strongly about me considering the option of a vaginal birth, given that I didn't have any physical or medical issues preventing me from attempting this option. However, my anxiety about the prospect of a natural birth was something that I didn't think I would ever be able to overcome.
My sister-in-law had completed a Hypnobirthing course during her second pregnancy and highly recommended it. Yet, I knew very little about what the course entailed, so I did some internet research which lead me to meet Christa from Hypnobirthing Australia.
Christa's passion, enthusiasm and belief in the Hypnobirthing Australia course was inspiring and reassuring. However, I remained quite skeptical about the course's ability to shift my negative perceptions about birth, and my fears about the prospect of delivering vaginally. However after commencing the course I was amazed and surprised at how well I connected with the material in the hypnobirthing sessions. While hypnobirthing has a strong psychological foundation, I found it to be a really practical course. For the first time I began to understand the purpose of contractions. I had always been told by others that contractions were some unexplainable pain experienced differently by each individual; however Christa fostered a belief that the 'pain' aspect of labor wasn't imminent or necessary as I had control over how my brain interpreted the sensations associated with my body's contractions. Thinking this way was life changing!
Hypnobirthing really got me to believe in the 'mind over matter approach' to childbirth, while Christa fostered a belief in me that a positive birth experience was possible for all women - even me! I had never really met anyone with a 'positive birth experience' before doing the hypnobirthing course, nor did I believe in the benefit of having a 'birth plan'; yet Christa assured me that 90% of a birth can be planned for, with 10% being left to chance.
After commencing the hypnobirthing course I realised that I had over-complicated the birthing process in my head, and had taken on board too many people's horrible birthing stories (which we all commonly hear about). Challenging my own negative beliefs about birth was something that the hypnobirthing course directly tackled; allowing me to gradually believe that I too deserved, and could have, a positive birth experience.
I was utterly surprised to learn that the key to a calm birth experience was about remaining as relaxed and calm as possible (which is the polar opposite approach to I would have taken without having done the hypnobirthing course).
In the lead up to my labour I had written myself a note saying; "there are only two steps to having a baby": 1). Waiting for my body to open (dilate to the 10cm's) once my baby was ready and 2). Breathing the baby out! Whilst it seemed simple in theory, I was still very unsure about my ability to remain calm in facing my fear of birth. However the hypnobirthing course also allowed me the opportunity to unpack these fears by explaining the way the human brain functions and cementing the possibility of a positive birth experience into my mind.
In the lead up to the birth I had practiced reciting the 'positive affirmations' contained in the hypnobirthing course, which helped me to believe in the fact that "my body and baby knew how to birth". My job was to switch off my analytical brain in order to allow my body to do what it was designed to do.
Hypnobirthing provided me with a structured way of relaxing, and the mantras recited on the hypnobithing CD's allowed me to condition my brain to believe that I was going to have a positive birth experience (although I was still unsure of the reality of this being able to occur!).
After completing the hypnobirthing course, both my partner and I felt more informed about our birthing options and the benefits of a natural birth experience (which was such a different head space to be in from when I had commenced the course!).
Having practiced the skills I had learnt throughout the hypnobirthing course with my partner (the visualizations, affirmations and massage), we felt somewhat prepared for the day of our baby's birth. I couldn't believe how the preparation incorporated into the hypnobirthing course had helped my anxiety subside, and allowed us to feel somewhat in control of what I had always seen as a very unpredictable situation. The course also sparked lots of meaningful conversations between my partner and I about our fears and anxieties about the birth process and parenthood; which really helped us prepare for the birth of our child as a couple (as much as was possible).
The information provided and discussed as a part of the hypnobirthing course also allowed my partner and I to feel that we were equipped with enough information to make informed choices throughout the labour; especially when it came making decisions about consenting to being induced (to help the contractions along), pain medication and vaginal examinations throughout the labor.
On the day of my birth; my waters had broken at 5am, with contractions starting at 6am. Shortly after I traveled to the hospital with my partner and I began listening to the hypnobirthing soundtracks in an effort to get my mind and body to relax as much as possible during labour. Having visualised how I would ideally like my birth to go, I had created a birth plan which the hospital staff were provided with, which informed that I would like to aim for a natural water birth without any pain medication (if possible).
After 5 hours of contractions the Doctor recommended that I be induced with syntocinon to help the contractions along. Once 'active labour' commenced I was able to enter the bath, where I continued to labour until the birth of our beautiful baby girl at 10:30pm that evening.
Having gone from being petrified about birth, to immersing myself in the belief that I was capable of having a positive birth is due to the amazing support of Christa and the Hypnobirthing Australia program. Before being exposed to the hypnobirthing course it would have been unimaginable for my birth to have gone the way that it did.
I am pleased to report that I am one more woman who can stand testament to the positive impact the hypnobirthing course had on my birthing experience. Being able to look back on my birth experience with joy is such an incredible thing, and something that I would have never ever thought would be possible.
From the bottom of my heart I truly want to thank Christa for the incredible support she showed me throughout my pregnancy and birth and for the amazing gift of self-belief and inner strength that was instilled in me in the lead up to the birth of our first baby. I don't think I have ever met such a kind and passionate person. Hypnbirthing is a course that I feel all women should be exposed to, not only to increase the likelihood of a positive birth experience, but to also allow all women to feel empowered about their own birth experiences.
Sincerely,
From Mel & Family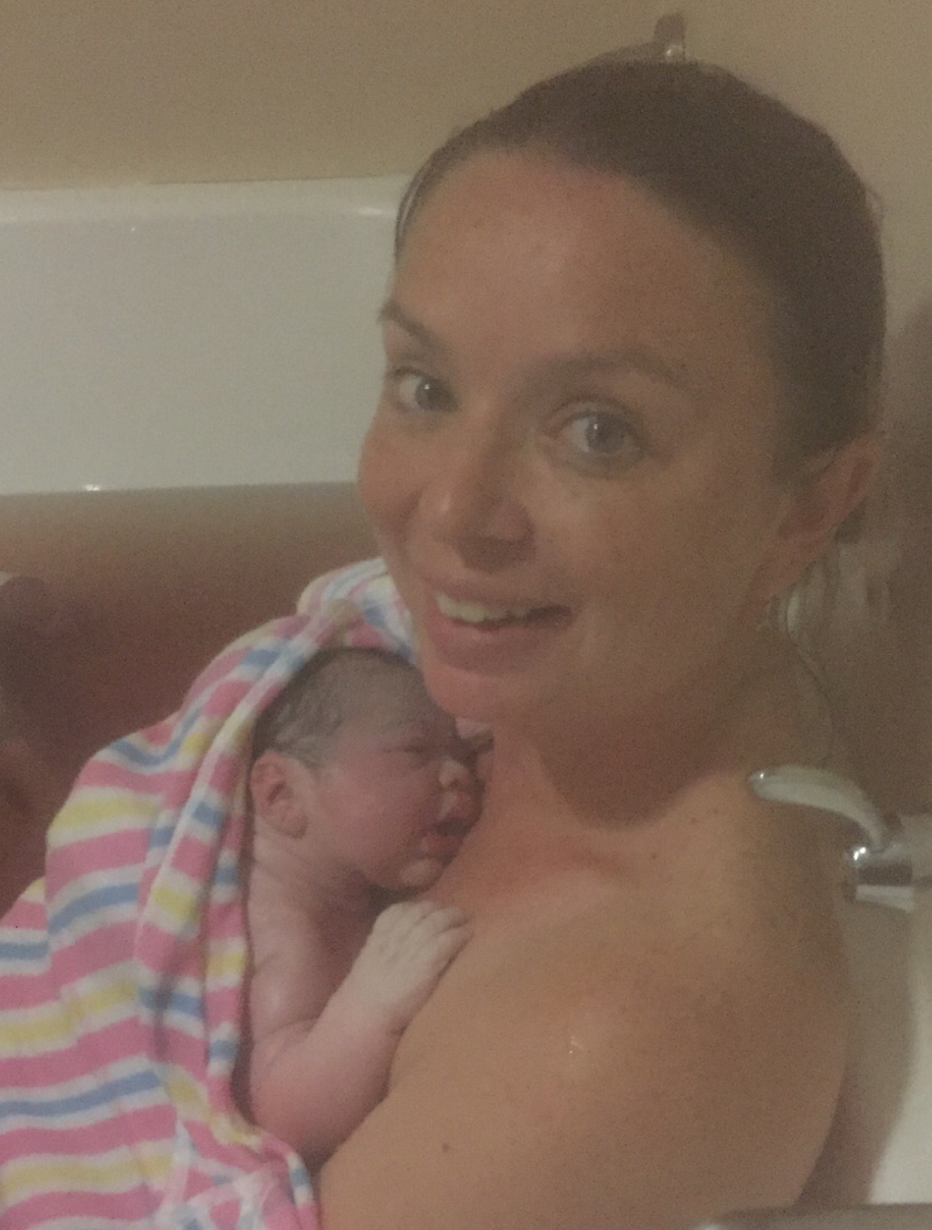 Dear Christa,
I just thought I'd check in with you and let you know we had our little miracle join us earth side on Monday 6th February.
The birth was everything I had wished, planned, prayed and dreamt of plus more. I had been listening to my Hypnobirthing tracks I had purchased off iTunes for a number of weeks and had actually used them frequently as a tool to get me to sleep for many of the previous weeks leading up to birthing day. I had my affirmations and visual aids printed and would also often visit them and silently go over them daily.
I can honestly say I wasn't in the slightest fearful or anxious about the labour. That seems to be the question everyone likes to ask when they see you close to your due date however I would always respond positively and state I was excited to see the amazing ability of what my own body is designed so delicately to do. I'm sure people thought I was naive however I knew what my body needed to do and trusted it would do it when the birthing day came around.
When it did, I was awoken to what I thought were Braxton Hicks as I had been experiencing them for many weeks prior. I sent my husband Josh off to work in the morning and for a couple of hours continued to experience very mild surges (they were however vey inconsistent and not all that intense so I continued to think they would just go away). I went about my morning very easily doing household chores until I began to notice a pattern in the surges. At this point they were every 4 minutes however I was still telling Josh not to hurry home as they still may go away. I was walking between the surges and even practising some basic yoga telling my body to open up and all the while referring to my affirmations.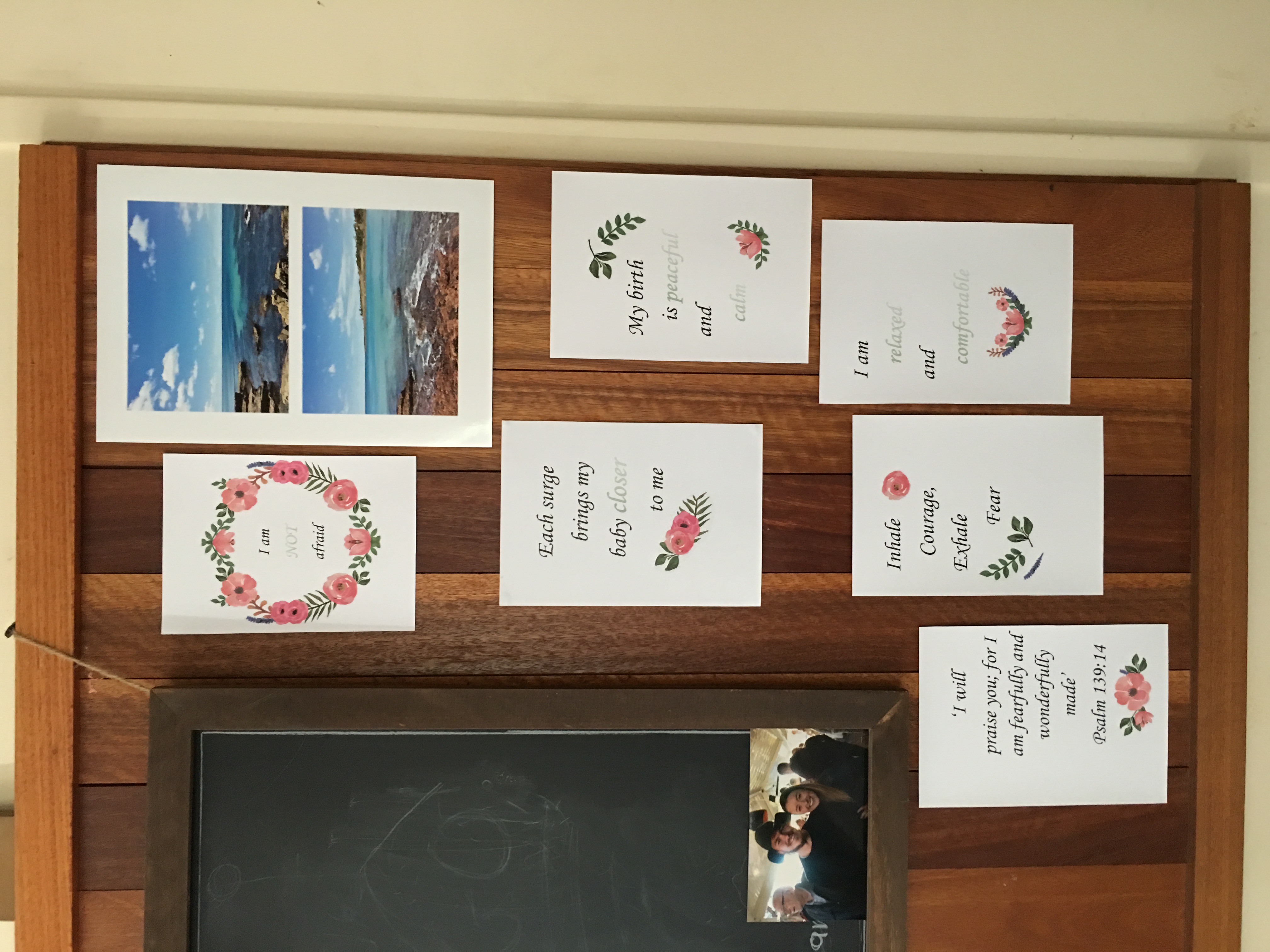 When Josh arrived home I had begun vomiting and noticed my body start to tremor. I recognised this as perhaps a sign of transition however as it had only been a couple of hours of mild surges, I was still in denial! Lucky we left for the hospital when we did however because as soon as we arrived and I began walking up to the birthing suite I began bearing down! We arrived at the hospital at 11am and our little miracle was born at 11:18am. I refused to get on the bed as the midwife instructed I do (thinking of your advice in my head "avoid getting on the bed!") and birthed our little man into the world standing up supported by my husband.
Christa, I am so thankful and forever grateful for everything you taught Josh and I in our Birth Toolkit class. I felt so incredibly prepared mentally for the birth and was confident my body would do as it is designed to do when birthing our baby into the world. I would often go through the workbook you gave us and was constantly refreshing myself with the different techniques we discussed in class. I was able to have an empowering and amazing birth thanks to you and your guidance. I will most certainly be recommending you and your expertise to anyone that will listen!
Thank you so much again Christa.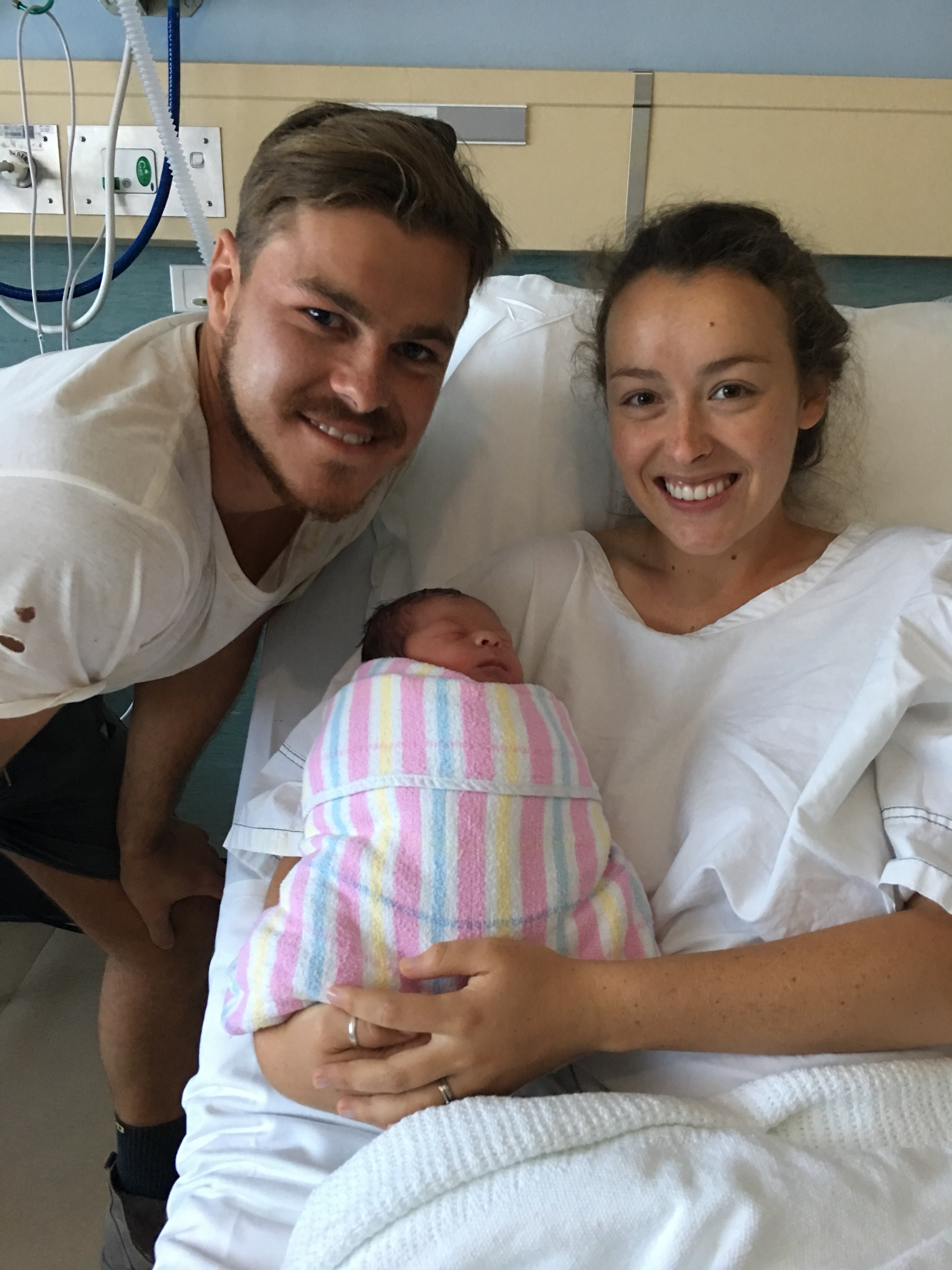 An Australian childbirth education expert is set to deliver a world first for parents who birth their babies via planned caesarean. The program promises to prepare parents for a positive and empowering caesarean birth experience utilising hypnotherapy techniques!
Women across the globe are terrified of childbirth; which is not surprising when Hollywood movies and shows like One Born Every Minute make it look horrific. Even Robbie William's recent live Twitter about his wife's labour, although very humorous, made the whole process appear so painful. When a caesarean birth is suggested, fear can spiral out of control. Well, finally there's a solution – and it is home grown here in Australia.
Hypnobirthing Australia™, the fastest growing national childbirth education course in Australia, has today announced the launch of 'The Positive Caesarean Birth' program.
Australian childbirth education expert, Clinical Hypnotherapist and program founder Melissa Splisted says, "It seems unfair to me, that parents who are preparing for a natural birth have access to positive childbirth preparation, such as our regular Hypnobirthing Australia course, however when a caesarean is needed, mothers are often very nervous and scared leading up to the birth and have had no tools to utilise in order to remain calm. Considering that approximately 30% of babies in Australia are now born via c-section; this program has the potential to help thousands of families – which is great news for mums and babies.'
Practicing midwife and childbirth educator Nicole Wyborn from Newcastle remarked, 'I often have women crying and scared on the way to theatre. It is wonderful that parents will now have access to this preparation.'
Elizabeth Guthrie from Brisbane was one of the first mums to take advantage of the program. 'I refused to be railroaded into a horrible birth just because it was going to be in an operating theatre. This was the only birth this baby was going to have and whilst I could do something about it, it was going to be amazing.'
Elizabeth says, 'My anaesthetist was fascinated at how hypnosis and drugs could work together to produce such awesome results. And our Paediatrician continues to advocate for immediate skin to skin as optimum for every birth'.
Ms Spilsted said that she is amazed that no-one ever thought to provide this preparation and support to parents requiring a caesarean birth in the past. 'When mothers are informed and relaxed – they and their baby, are more likely to have a calm and positive birth experience. The empowerment that the mother feels then flows through to parenting. It just makes sense that we do all that we can to ensure that our birth is safe, calm and a positive experience – regardless of how our baby comes into the world.'
Parents who attend the course learn how to utilise relaxation, breathing and hypnotherapy techniques leading up to and during the birth to help reduce stress levels. Baby friendly practices (such as skin to skin contact) are also discussed, however these preferences are subject to individual circumstances and medical advice.
The hypnotherapy album 'Caesarean Birth – Calm and Relaxed' that accompanies the course is also available through iTunes and the Hypnobirthing Australia website.
'I am a passionate advocate for all parents having access to quality and positive childbirth education. Less fear and more joy is my motto! It is exciting to know that 'The Positive Caesarean Birth' program has now become available Australia-wide through Hypnobirthing Australia's network of caesarean-trained practitioners – comprising of midwives, clinical hypnotherapists, psychologists, doulas and childbirth educators.'
For more information visit www.hypnobirthingaustralia.com.au