Hi Christa,
Just wanted to update you and let you know that our boy Adrian made his appearance on Monday morning! He is a lovely chunky thing and weighed in at 4.3kgs!
It was the most amazing experience! Such a great labour and birth. We used all our techniques and stayed home for most of it. I think I was so calm that the midwives at birth unit didn't take my call seriously! My water broke at 5am and we quickly went to the hospital. By 6.10 I had the urge to bear down (on the toilet!) so quickly rushed to the bed and instinctively got on all fours. Bub was out in 10. Doctor missed the birth as I was already 9cm when they called her! Midwives were great and let me do my own thing.
Every single nurse and midwife that comes in is surprised when they find out he was a natural birth with no pain relief. I still can't believe I did it but it was so empowering. I told Michael straight after "I could do that again!"
Thanks again for everything you taught us and for all you support.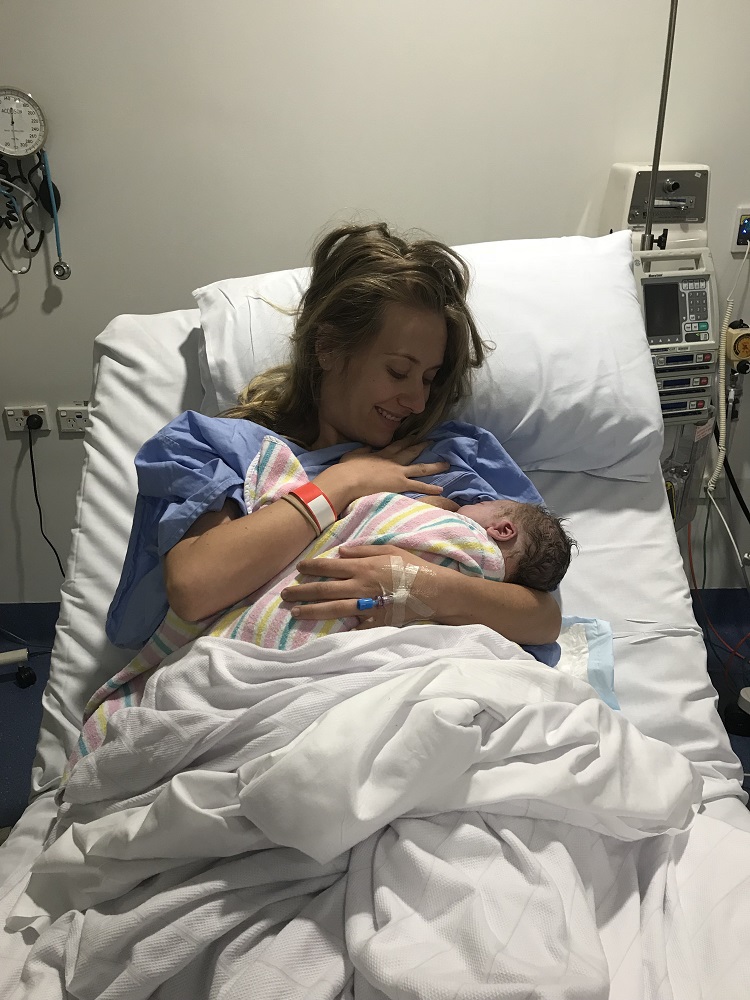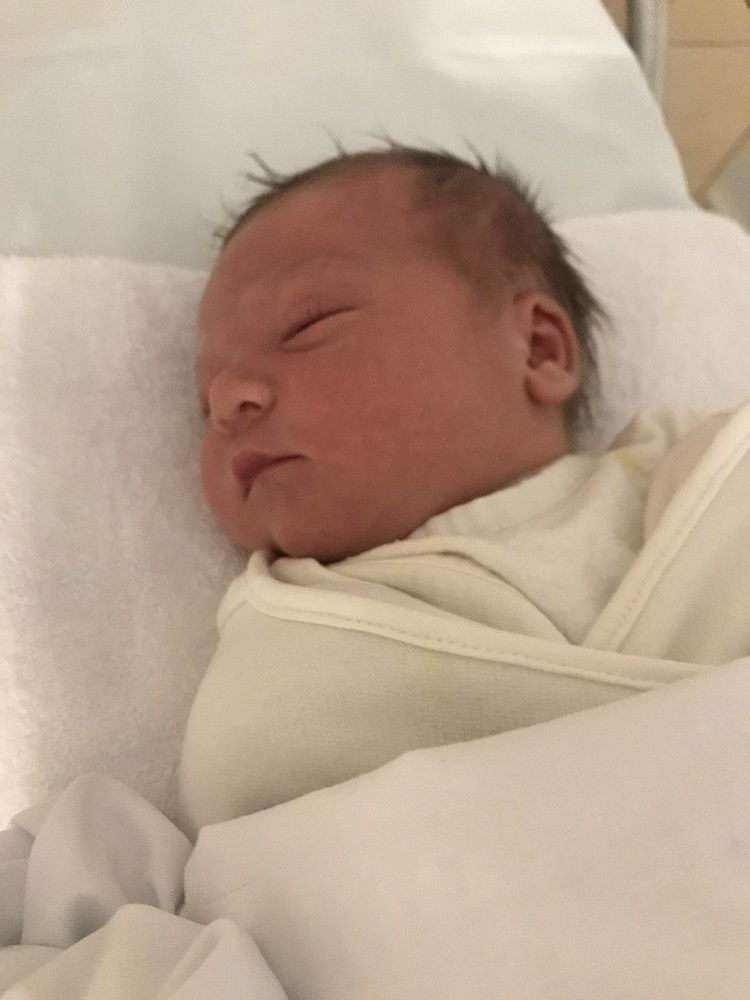 Hi Christa
I'm finally getting the chance to sit down and tell you of the birth of our daughter and little cutie Leela Evie-Fae Sturzenbaum who was born on Monday January 16th at 9:45pm, she was 50cm long and 3.4kg.
I was 41 weeks when I started getting regular contractions at 5am, I had been getting Braxton Hicks for the week prior, and with Leela being very active all night the combination meant no sleep. Early on the 16th I noticed that the tightening was coinciding more with a general abdominal ache and started timing, the ache became stronger and more regular, and my stomach started getting upset, so at 9am I told hubby Rob that I thought today would be the day and we called our doula Casey from Motherbirth.
We stayed home listening to the hypnobirthing tracks, listening to and looking at my affirmations and using the birthing ball until about 1pm when we decided to head to the hospital. The surges had been getting more intense and I wanted to be more mobile during them (and not in the car) as things progressed. I was assessed at the hospital and decided to have a vaginal exam to check my dilation which at that stage was 4cm. We were then moved to a birthing suite. Rob turned off the lights and put on our hypnobirthing tracks and an oil diffuser.
My waters broke very suddenly when I was sitting upright so I then found a comfortable position on the floor leaning over a birthing ball and didn't really move too much from that spot! I had planned on using the bath but didn't end up doing so once I found a comfortable spot on the floor!. After a few hours I was getting uncomfortable so I moved over and leant over the bed so I could rest more between the surges. At around 3pm I was fully dilated (Casey was aware of this but didn't tell me until later) and felt like baby was coming very soon. After pushing for several hours Leela still hadn't arrived and there was some meconium in the water so the midwife recommended I move up onto the bed to hopefully speed things up. I hadn't wanted to birth on the bed but decided to by lying on my side where I'd have more hip movement. It was actually a relief to lie down after so long and Casey held my leg to keep my pelvis open.
I used my hypnobirthing breathing but had to make my noises a bit more internal near the end to help push the baby out. After 7 hours of pushing I was exhausted and finally Leela was born at 9:45pm. One of my biggest fears had been tearing or having an episiotomy but thankfully I only had slight grazing. Unfortunately we couldn't do the delayed cord clamping as it had already stopped pulsating due to the length of the pushing phase. Thankfully bub was okay and didn't need any interventions. We had early skin to skin and I was lucky to be able to breast feed in the first hour.
We had declined the oxytocin injection for the third stage, opting to wait up to an hour but after 40 minutes the midwife and doctor were concerned that I was bleeding a fair bit and began massaging my stomach. I found that very uncomfortable so at that point I asked for the oxytocin which sped things up a little. The doctor was prepping to do a D&C so I asked for some gas while the doctor continued the massage and doing cord traction as I felt very tender, luckily that worked very quickly and things resolved.
We are so grateful for the hypnobirthing course and your help, we wrote a birth plan which helped us decide and clarify the experience we hoped for (which the hospital was great about and followed), the affirmations kept reminding me of the end result when I was getting tired and the breathing kept me focused at times when I felt I was getting distracted. I felt very confident leading up to the day, knowing that it was a natural process and my body and baby knew what to do. It helped relieve a lot of the fears that I had about the unknown of giving birth for the first time. Having Casey as doula, in addition to my husband (and Mum and sister) was a great support and gave me encouragement during labour, Casey also arranged placenta encapsulation for me and I found I had energy in the days following and no baby blues. We are very happy with the outcome, I had no interventions, no tearing and no drugs for the birth which I never would have thought I could do! It was the most amazing day of my life, very challenging but so worth it. I'd recommend hypnobirthing to anyone, the confidence of being so well prepared with knowledge really made the experience fantastic.
Thank you from all of us!
Geraldine, Robert and Leela.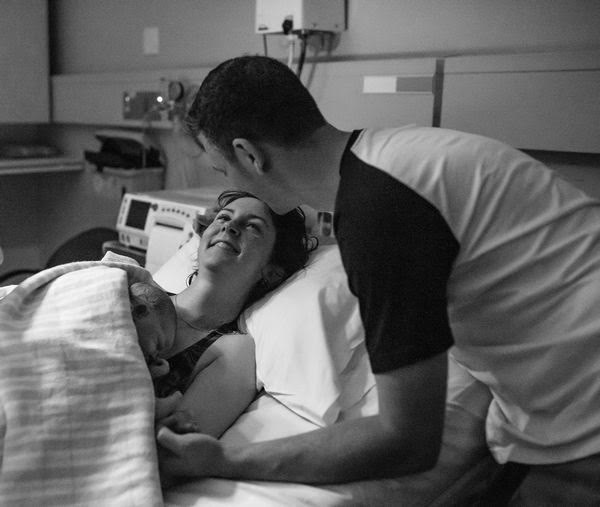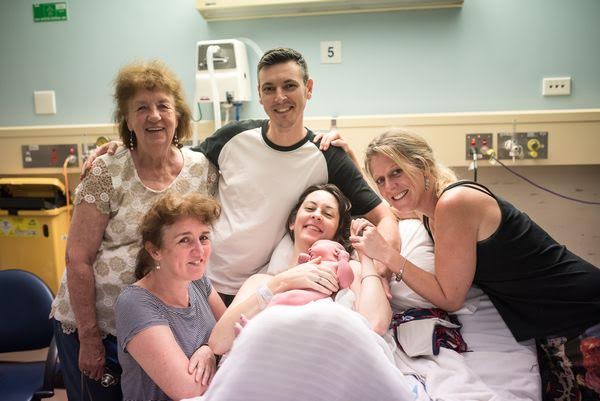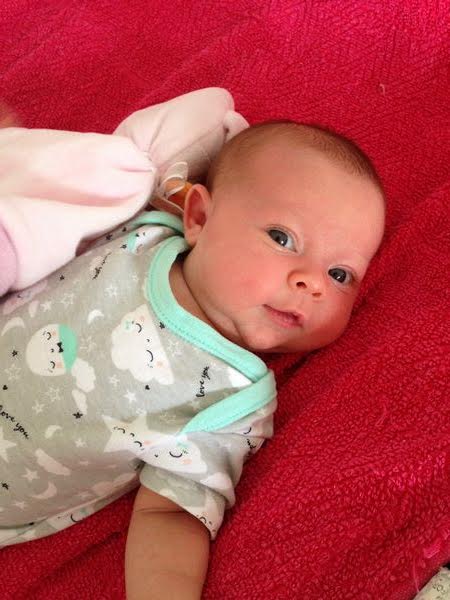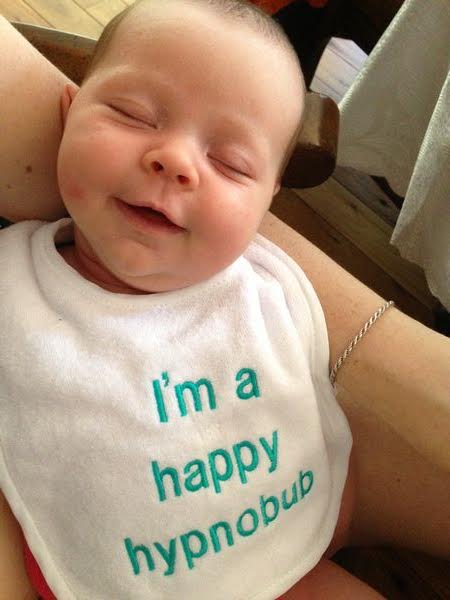 Hi Christa,
Just wanted to say thank you again for the hypnobirthing course my husband and I attended. I gave birth to a healthy baby boy on Monday 13th Feb and even thought it ended up nothing like I planned and in an emergency cesarean I know that I would not have coped as well as I did without your course and the birthing techniques you taught us. I had an elective cesarean first time around and was depressed about it. This time I felt empowered, and confident in my decisions and now proud of myself for what my body achieved. Thank you for helping me heal this mental wound I had surrounding birth!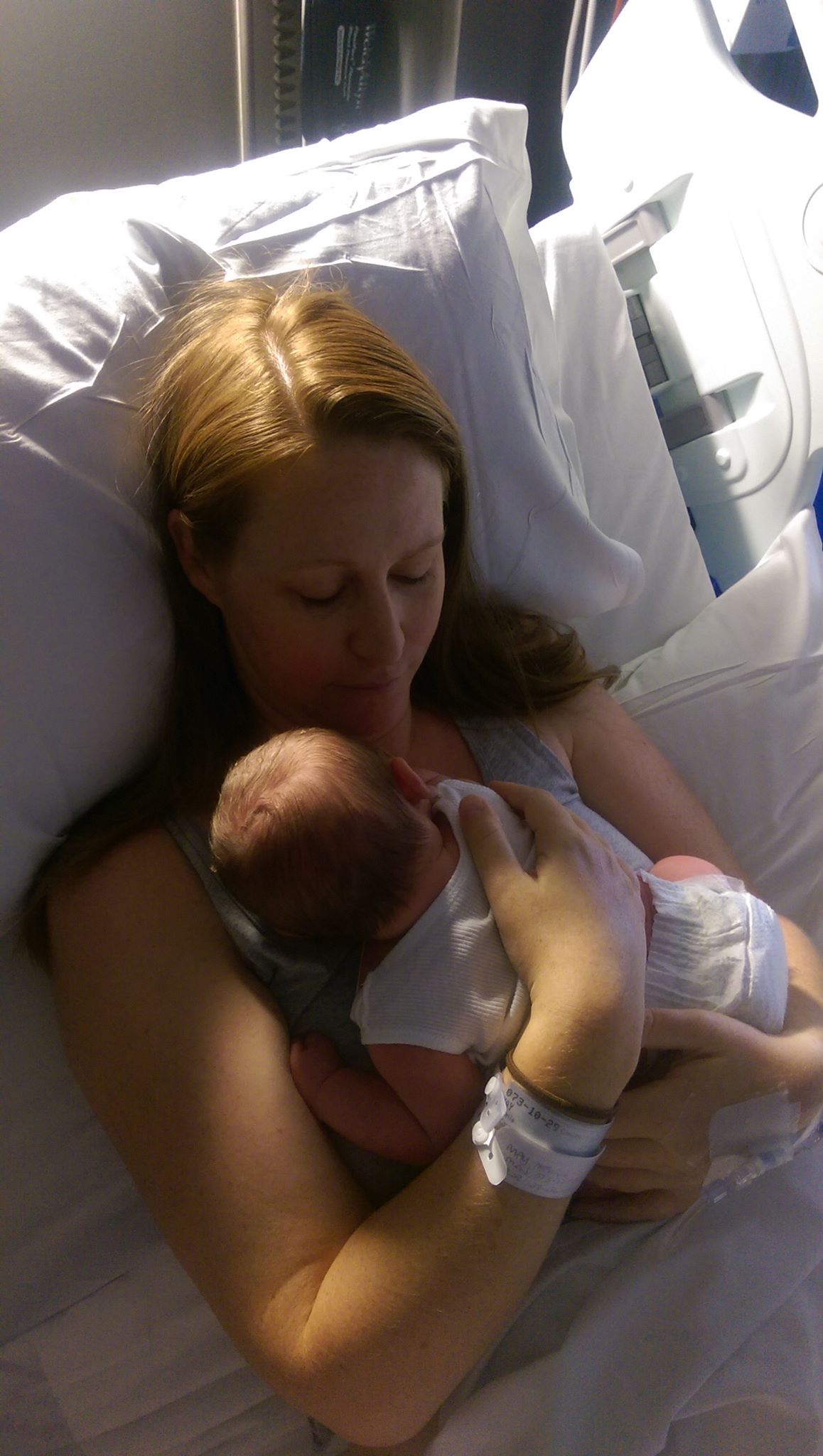 Hi Christa !
Just wanted to let you know we had our beautiful boy Jasper Hamilton Jenkins on October 26th at 11:26am! <3 He weighed 3.6kg and was 56cm long! I was 41+2 weeks pregnant when my waters broke and there was meconium in the waters meaning that the hospital wanted to monitor bub's heart rate the whole time... so I wasn't able to move around as much as hoped! However we had our amazing hypnobirthing environment set up with the soundtrack playing and dim lighting etc and I used my breathing and sounding for 10/11 hours and surprised all the midwives when they realised how I was progressing without much fuss. I was able to get in the bath for a bit as well which was nice.
Everything I learned from you was AMAZING for 11 hours in hospital and despite a few complications I mostly birthed very happily and pretty naturally (I had some syntocinon at the end when I freaked about pushing and my contractions slowed - totally fear/mind/body/related - everything we talked about!)
So what I'm saying is thank you a million! We are so happy that the course helped us with smooth sailing for hours, and also helped us to continue smoothly and with a sense of empowerment when things didn't go exactly as hoped!
Xx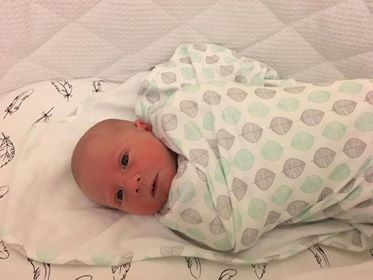 Hi Christa, I just thought I would let you know our little princess arrived on Friday! This is Esme Florence Sophie Childs, she was born at 00:51 on the 14/10 after my waters broke at 3pm on the 13/10. She weighed 4.03kg! I was able to quite easily breathe through the first phase using the hypno birth techniques and was fully dilated by 11pm on gas only which I started at 5cm when I got in the bath (when I arrived at hospital). I had to get out of the bath when I was fully dilated as there was meconium in the waters and this brought me unstuck as I couldn't use gas in the 2nd phase and I wasn't comfortable in any "land" pushing positions. I pushed for 90 minutes and it turns out my pubic bone position was preventing her getting around the "s-bend". Esme was getting tired so we ended up having a forceps delivery and episiotomy. She wasn't hurt at all in delivery (unlike me!!!) and was in my arms within 2 pushes.
I am so grateful to have done the course as I honestly coped like a dream getting to 10cm, and I believe if I didn't have to get out of the bath and Esme didn't get stuck then I would have been able to get through the whole thing without too much trouble at all. As much as I didn't want a forceps delivery when they handed her to me and it was all over in a few minutes I was so relieved as my pushing was getting me nowhere for 90 minutes.
Thank you for sharing your knowledge and expertise!!! We really enjoyed the course and it helped both Nick and myself get through one of the most intense and rewarding days of our lives!!! Xx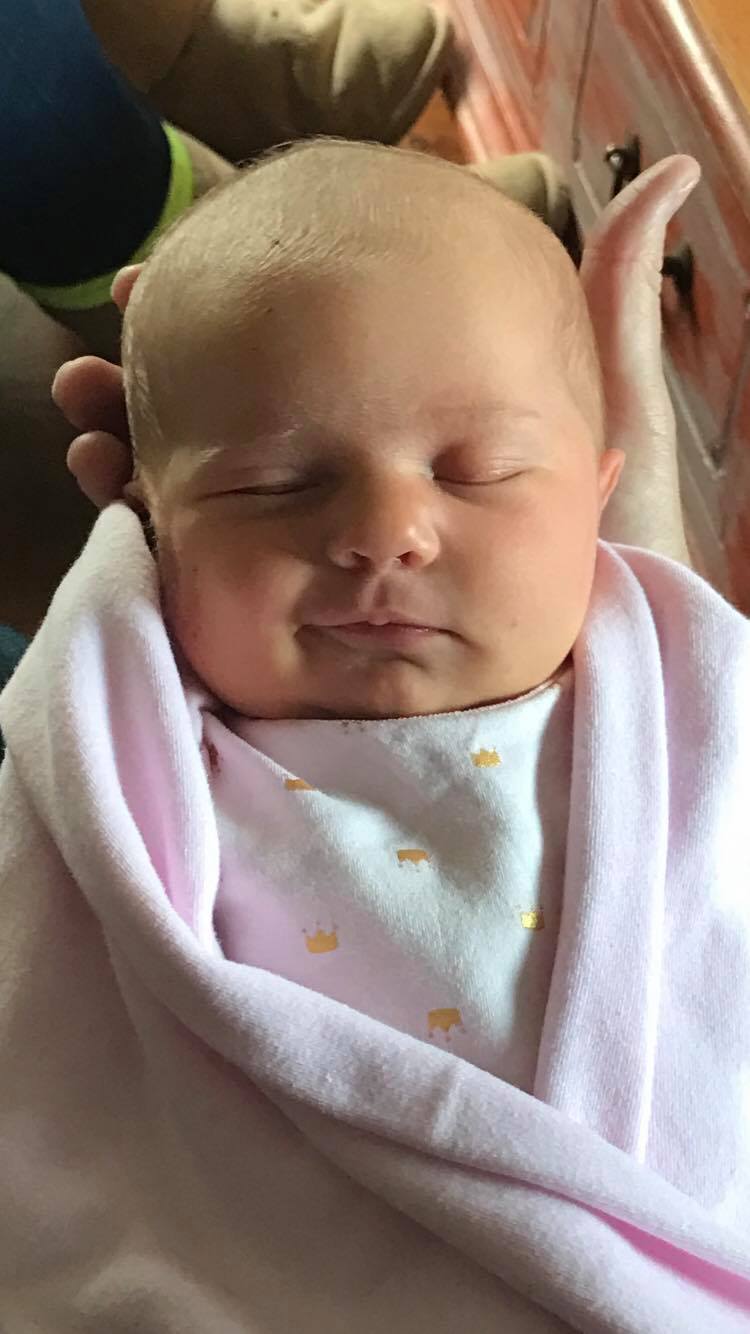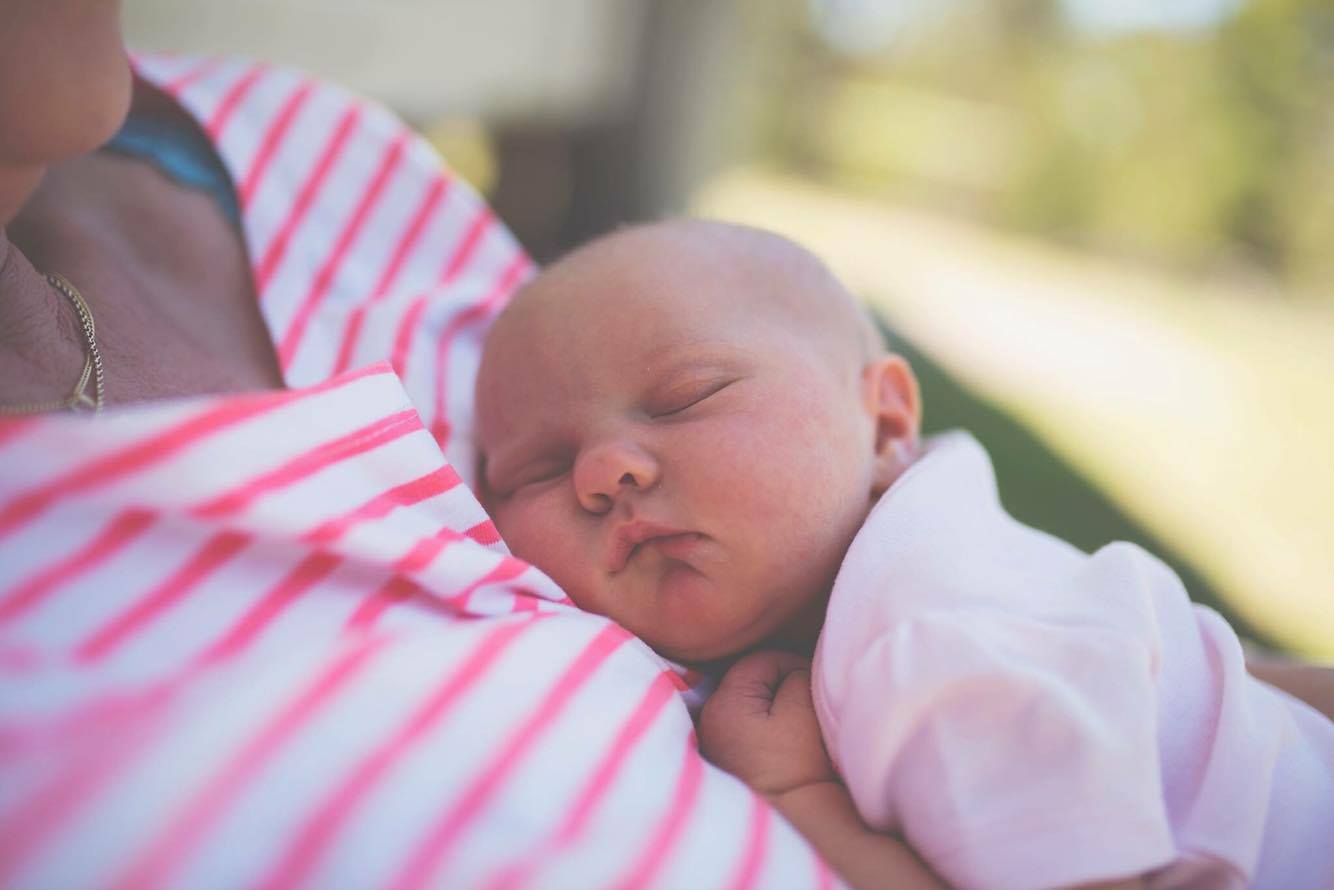 To say that I was petrified to give birth would be an understatement! Having been a caesarean baby myself I had resigned myself to the fact that I too would likely have a caesarean. I felt that opting for a caesarean would allow me to avoid my fear of giving birth vaginally and would allow me some control over the birth of my baby; in a situation that I perceived to be very uncontrollable. However, my partner felt quite strongly about me considering the option of a vaginal birth, given that I didn't have any physical or medical issues preventing me from attempting this option. However, my anxiety about the prospect of a natural birth was something that I didn't think I would ever be able to overcome.
My sister-in-law had completed a Hypnobirthing course during her second pregnancy and highly recommended it. Yet, I knew very little about what the course entailed, so I did some internet research which lead me to meet Christa from Hypnobirthing Australia.
Christa's passion, enthusiasm and belief in the Hypnobirthing Australia course was inspiring and reassuring. However, I remained quite skeptical about the course's ability to shift my negative perceptions about birth, and my fears about the prospect of delivering vaginally. However after commencing the course I was amazed and surprised at how well I connected with the material in the hypnobirthing sessions. While hypnobirthing has a strong psychological foundation, I found it to be a really practical course. For the first time I began to understand the purpose of contractions. I had always been told by others that contractions were some unexplainable pain experienced differently by each individual; however Christa fostered a belief that the 'pain' aspect of labor wasn't imminent or necessary as I had control over how my brain interpreted the sensations associated with my body's contractions. Thinking this way was life changing!
Hypnobirthing really got me to believe in the 'mind over matter approach' to childbirth, while Christa fostered a belief in me that a positive birth experience was possible for all women - even me! I had never really met anyone with a 'positive birth experience' before doing the hypnobirthing course, nor did I believe in the benefit of having a 'birth plan'; yet Christa assured me that 90% of a birth can be planned for, with 10% being left to chance.
After commencing the hypnobirthing course I realised that I had over-complicated the birthing process in my head, and had taken on board too many people's horrible birthing stories (which we all commonly hear about). Challenging my own negative beliefs about birth was something that the hypnobirthing course directly tackled; allowing me to gradually believe that I too deserved, and could have, a positive birth experience.
I was utterly surprised to learn that the key to a calm birth experience was about remaining as relaxed and calm as possible (which is the polar opposite approach to I would have taken without having done the hypnobirthing course).
In the lead up to my labour I had written myself a note saying; "there are only two steps to having a baby": 1). Waiting for my body to open (dilate to the 10cm's) once my baby was ready and 2). Breathing the baby out! Whilst it seemed simple in theory, I was still very unsure about my ability to remain calm in facing my fear of birth. However the hypnobirthing course also allowed me the opportunity to unpack these fears by explaining the way the human brain functions and cementing the possibility of a positive birth experience into my mind.
In the lead up to the birth I had practiced reciting the 'positive affirmations' contained in the hypnobirthing course, which helped me to believe in the fact that "my body and baby knew how to birth". My job was to switch off my analytical brain in order to allow my body to do what it was designed to do.
Hypnobirthing provided me with a structured way of relaxing, and the mantras recited on the hypnobithing CD's allowed me to condition my brain to believe that I was going to have a positive birth experience (although I was still unsure of the reality of this being able to occur!).
After completing the hypnobirthing course, both my partner and I felt more informed about our birthing options and the benefits of a natural birth experience (which was such a different head space to be in from when I had commenced the course!).
Having practiced the skills I had learnt throughout the hypnobirthing course with my partner (the visualizations, affirmations and massage), we felt somewhat prepared for the day of our baby's birth. I couldn't believe how the preparation incorporated into the hypnobirthing course had helped my anxiety subside, and allowed us to feel somewhat in control of what I had always seen as a very unpredictable situation. The course also sparked lots of meaningful conversations between my partner and I about our fears and anxieties about the birth process and parenthood; which really helped us prepare for the birth of our child as a couple (as much as was possible).
The information provided and discussed as a part of the hypnobirthing course also allowed my partner and I to feel that we were equipped with enough information to make informed choices throughout the labour; especially when it came making decisions about consenting to being induced (to help the contractions along), pain medication and vaginal examinations throughout the labor.
On the day of my birth; my waters had broken at 5am, with contractions starting at 6am. Shortly after I traveled to the hospital with my partner and I began listening to the hypnobirthing soundtracks in an effort to get my mind and body to relax as much as possible during labour. Having visualised how I would ideally like my birth to go, I had created a birth plan which the hospital staff were provided with, which informed that I would like to aim for a natural water birth without any pain medication (if possible).
After 5 hours of contractions the Doctor recommended that I be induced with syntocinon to help the contractions along. Once 'active labour' commenced I was able to enter the bath, where I continued to labour until the birth of our beautiful baby girl at 10:30pm that evening.
Having gone from being petrified about birth, to immersing myself in the belief that I was capable of having a positive birth is due to the amazing support of Christa and the Hypnobirthing Australia program. Before being exposed to the hypnobirthing course it would have been unimaginable for my birth to have gone the way that it did.
I am pleased to report that I am one more woman who can stand testament to the positive impact the hypnobirthing course had on my birthing experience. Being able to look back on my birth experience with joy is such an incredible thing, and something that I would have never ever thought would be possible.
From the bottom of my heart I truly want to thank Christa for the incredible support she showed me throughout my pregnancy and birth and for the amazing gift of self-belief and inner strength that was instilled in me in the lead up to the birth of our first baby. I don't think I have ever met such a kind and passionate person. Hypnbirthing is a course that I feel all women should be exposed to, not only to increase the likelihood of a positive birth experience, but to also allow all women to feel empowered about their own birth experiences.
Sincerely,
From Mel & Family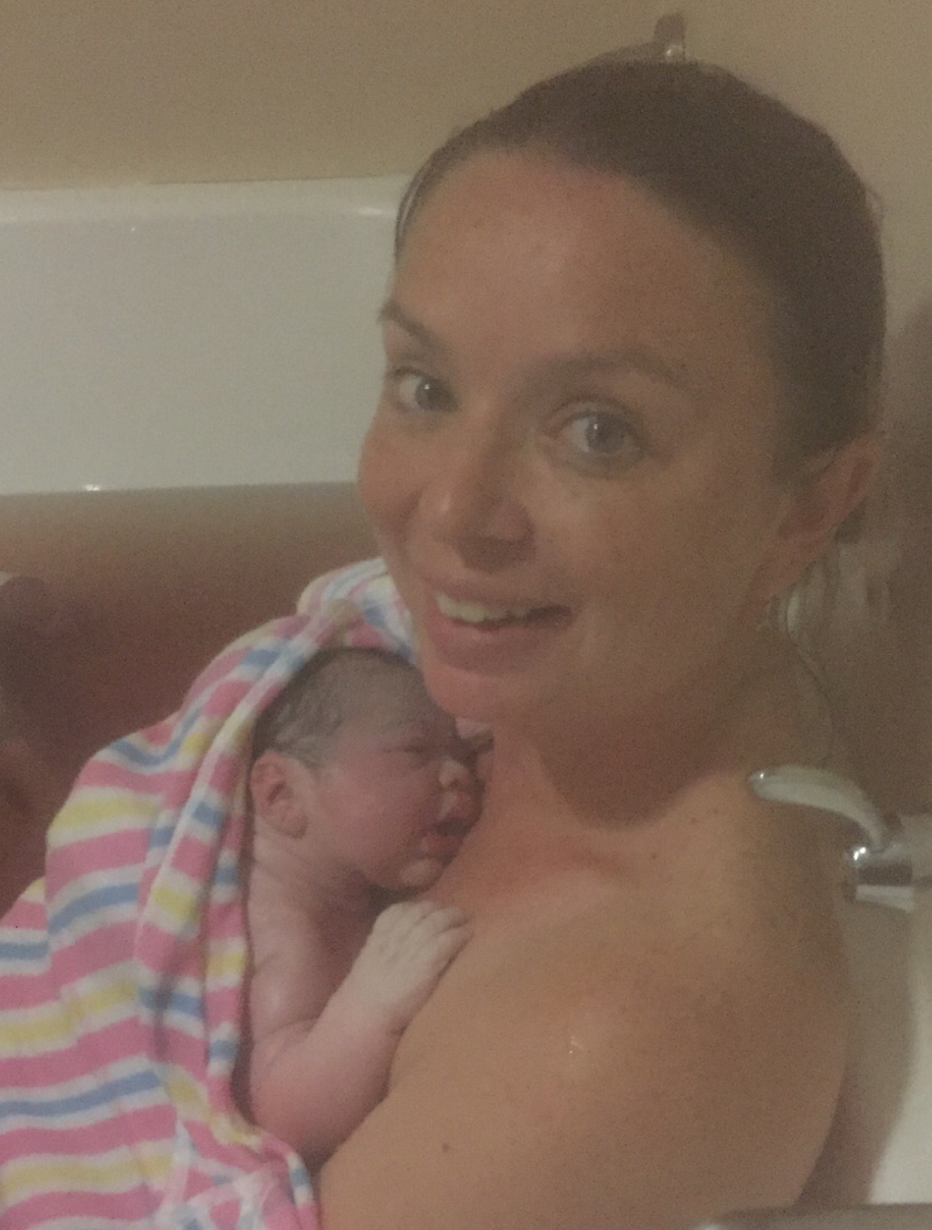 Dear Christa,
I just thought I'd check in with you and let you know we had our little miracle join us earth side on Monday 6th February.
The birth was everything I had wished, planned, prayed and dreamt of plus more. I had been listening to my Hypnobirthing tracks I had purchased off iTunes for a number of weeks and had actually used them frequently as a tool to get me to sleep for many of the previous weeks leading up to birthing day. I had my affirmations and visual aids printed and would also often visit them and silently go over them daily.
I can honestly say I wasn't in the slightest fearful or anxious about the labour. That seems to be the question everyone likes to ask when they see you close to your due date however I would always respond positively and state I was excited to see the amazing ability of what my own body is designed so delicately to do. I'm sure people thought I was naive however I knew what my body needed to do and trusted it would do it when the birthing day came around.
When it did, I was awoken to what I thought were Braxton Hicks as I had been experiencing them for many weeks prior. I sent my husband Josh off to work in the morning and for a couple of hours continued to experience very mild surges (they were however vey inconsistent and not all that intense so I continued to think they would just go away). I went about my morning very easily doing household chores until I began to notice a pattern in the surges. At this point they were every 4 minutes however I was still telling Josh not to hurry home as they still may go away. I was walking between the surges and even practising some basic yoga telling my body to open up and all the while referring to my affirmations.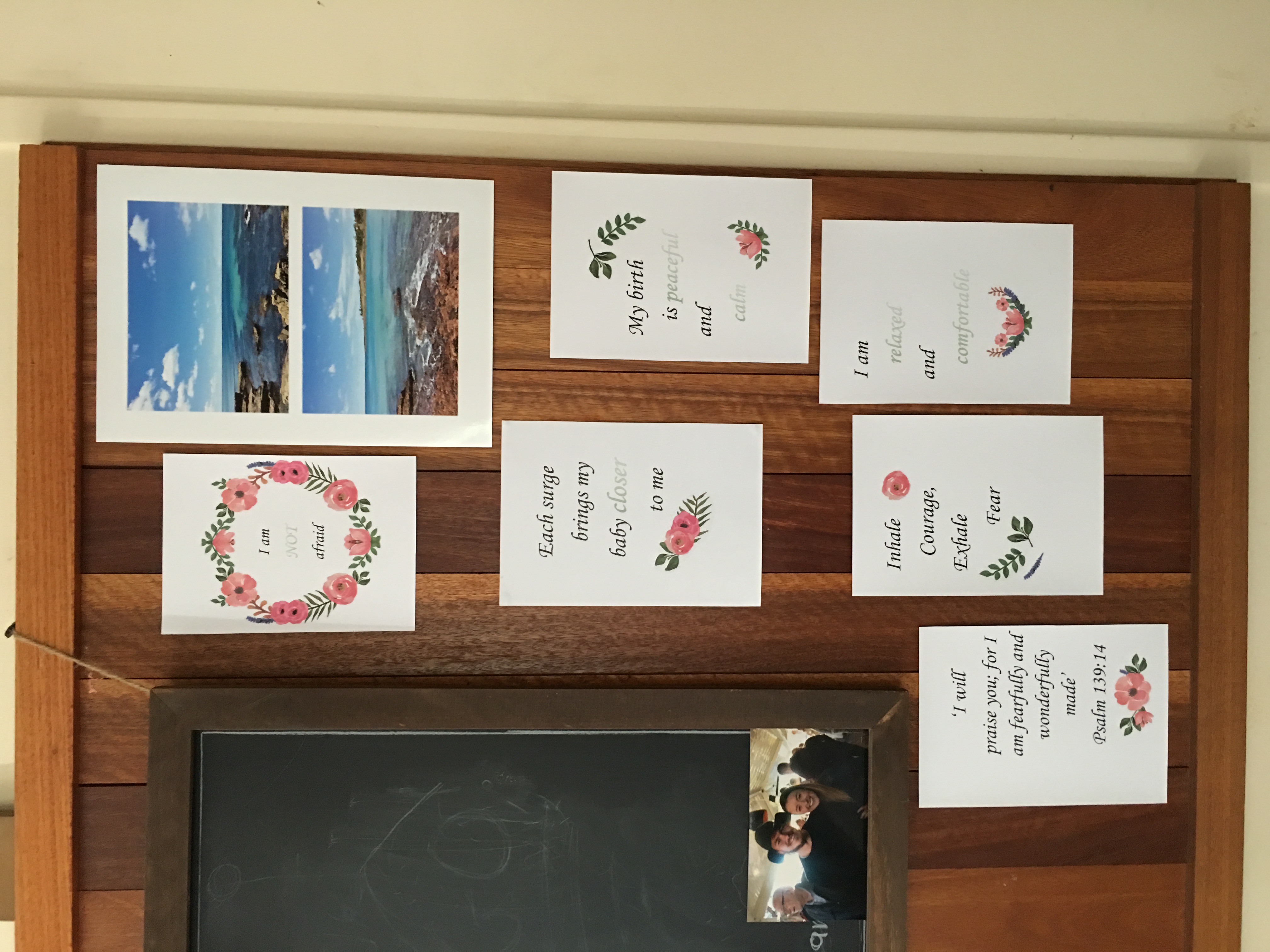 When Josh arrived home I had begun vomiting and noticed my body start to tremor. I recognised this as perhaps a sign of transition however as it had only been a couple of hours of mild surges, I was still in denial! Lucky we left for the hospital when we did however because as soon as we arrived and I began walking up to the birthing suite I began bearing down! We arrived at the hospital at 11am and our little miracle was born at 11:18am. I refused to get on the bed as the midwife instructed I do (thinking of your advice in my head "avoid getting on the bed!") and birthed our little man into the world standing up supported by my husband.
Christa, I am so thankful and forever grateful for everything you taught Josh and I in our Birth Toolkit class. I felt so incredibly prepared mentally for the birth and was confident my body would do as it is designed to do when birthing our baby into the world. I would often go through the workbook you gave us and was constantly refreshing myself with the different techniques we discussed in class. I was able to have an empowering and amazing birth thanks to you and your guidance. I will most certainly be recommending you and your expertise to anyone that will listen!
Thank you so much again Christa.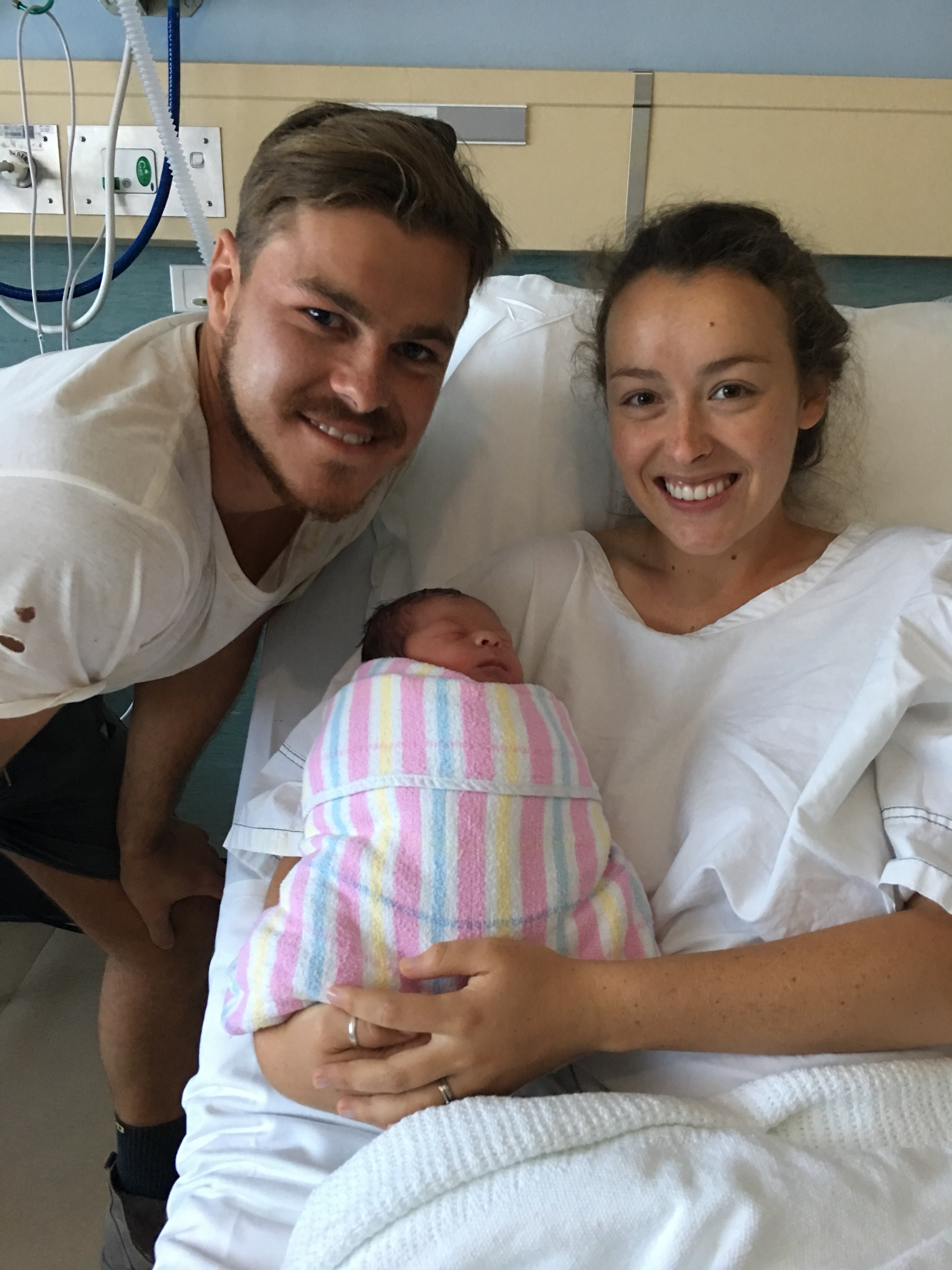 This is directly from Kristall's family blog here.
****************************************************************
The beautiful birth of Grace by Kristall Wong
I don't believe in love at first sight. My husband won't mind me saying this as he feels the same about me hahaha – we were best of friends for years before we grew in love with each other.
Ok I lie, I didn't used to believe in love at first sight until I had my first baby Celeste. I still remember it vividly – I had had almost 4 days of contractions on and off, I had not been eating drinking or sleeping during that time either, here I was on a bed in the hospital with a drip in my hand that was not put in right so it just made my hand blow up like a blown up glove. I was so exhausted and had complications and the doctor was telling me to push – and I had no energy. It was excruciating, exhausting and .. What's another word that starts with E? But when I saw my daughters face for the first time, I just instantly fell in love - so completely! It was crazy to me that this little screaming pink thing which I had never seen or met before could just immediately become my whole world and that I felt I would do and give anything for her. So powerful was this love I felt for her. I felt the same when I had my little boy, Hyrum – even though with his birth I again did not get what I wanted from the birthing experience. But I still fell in love with him the same – instantly and completely.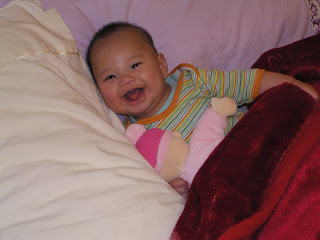 Who wouldn't fall in love with this cutie?!
Over the years you forget about the pain and the trauma of childbirth. You just remember how much you loved them from the first time you ever saw their beautiful faces up until now- and you want to feel that again. I had heard magical tales of my sisters births in America – they plan the date they will induce her, when the contractions get painful she asks for (and GETS) an epidural – then she watches TV while the monitor says she is having contractions, she pushes when told and she gets her baby! Who wouldn't want that after what I went through!? After I had Celeste I decided I wanted to give birth like my sister Jas! They don't offer epidurals at my local hospital, so we went Private. Hired an obstetrician and paid a lot of money with the only intention of it being to get induced and have an epidural. I did not realise how they induce here in Australia is a lot different to how they induce in America. Here, it consisted in me having about 10-20 internals!! HAHAHAHHAHAA poor me! I HATE internals LOL I had been sucked in! It was invasive and painful. NEVER AGAIN. When I was put onto an IV to induce the contractions 2 days later, the contractions were sooo powerful – there was no nice little lead up it was just full on. So I asked for an epidural, and the midwife said it was too early and may stop the contractions if I got it too early - the next minute she said it was too late and I should be happy I saved $500 for not calling the anaesthetist out – are you kidding me?! I don't care about $500, I had spent about $5000 out of pocket JUST to get that epidural! I felt cheated again and traumatised – and now, poor too! Oh, I can laugh about it now.. but I cried a lot back then LOL.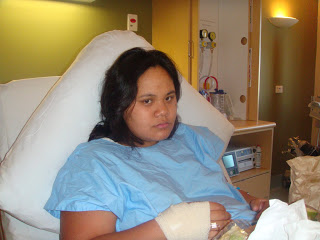 This is me after Hyrum was born haha! Can you tell I felt cheated??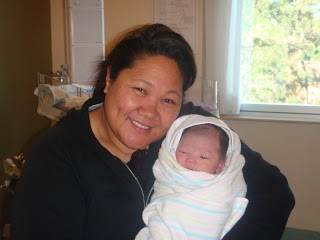 My mother and my precious boy
Last year, my sister in law, Solange, gave birth to beautiful Ivy. She lives at my place, so she went to my local hospital (that does not offer epidurals and the one I had Celeste at) for check-ups but found she could deliver at another hospital and get an epidural. And she did. WINNER! I thought this was the solution to my problem – I could get what I wanted and not be poor. Confidently I went to my local hospitals ante natal clinic, admin said it was fine – I was happy. Then at my 20 week appointment I was told by the midwife who saw me that 'they don't do that anymore' and 'I am sorry if someone got your hopes up, but that is not happening'. I tried to tell her about my sister in law who had done it not 6 months earlier, and what admin had said, I tried to tell her what I had done with Hyrum to get an epidural – but she would not have it and just told me to forget it and pretty much just shattered my dreams. I found out also, that she was the midwife who denied me my epidural at the Private Hospital with Hyrum and is a strong natural childbirth advocate so she most likely had her own motives for rejecting my request. HAHAHAHHA I could not escape her! I was shattered. I felt so helpless and that there was nothing I could do I was just NEVER going to have it my way or get the birth I wanted. It seemed when I trusted the hospital – they traumatised me and did whatever they wanted to me. When I PAID and tried to choose what I wanted, other medical professionals would put their will over mine. It seemed helpless. Needless to say, I cried all the way to my mums house where my kids were. Its not all sad – now I can see that this encounter was an absolute blessing in disguise.
At mums, I cried to Jas about what had happened and she said her friends in Utah swear by something called Hypnobirthing and suggested I look into it. So I did. I read and read about all these HIPPIES who hypnotise themselves during childbirth – I watched videos of women giving birth and looking and being so calm. This was so different from what was on TV – and very different from what I am like during childbirth too (think 'female Tarzan' hahaha). Then I discovered Hypnobabies which is like Hypnobirthing – self-hypnosis, but instead of being still and stagnant, it teaches you to hypnotise yourself during contractions (pressure waves) and then walk around and move in between them and be completely comfortable and have an active birth. They also sold a home study course which was perfect for me. So I ordered it online (from the States) and started my Hypnobabies journey. Because I was going back to my local hospital where I had been traumatised with Celeste's birth, I also looked into hiring a doula to be MY advocate and voice at a time when I am vulnerable. I found the perfect one for me online! Christa is a doula who also did Hypnobabies with her third child, like me, she is a member of The Church of Jesus Christ of Latter Day Saints, and she lives 20-30 minutes from me whereas other doulas live hours from me. Perfect in every way!
I loved it from the beginning. It was all about doing what is best for baby and yourself – naturally and without all the interventions that I had had before that had led to complications. Believing in yourself and that our bodies are designed to give birth. I started the course when I was 26 weeks – and did each one week class over a 2 week period. Listening to the tracks was so relaxing and helped me to feel positive about myself, my body and the pregnancy. As a result, I slept soundly most every night, I did not blow up like I usually do when pregnant and felt comfortable all the way through – even though I went to 41 weeks. I was still taking my daughter to school and doing things as per normal. Usually I become a beached whale.
So my 'due date' came and went. I wasn't worried about it until I went to the antenatal clinic on Friday for a check-up and was told that my birth preferences were impossible (ok really just the one about not having internals – I requested NONE hahahhaha but honestly, I had enough last time to last me 10 pregnancies! And what is the point of them??), and was pressured into taking a referral for an ultrasound and even worse, we set a date for my induction – as the doctor said I would be killing my baby keeping her there and because I was induced the last two times maybe my body could not go into labour on its own. These were all things I did NOT WANT, but my husband was with me and said if we didn't say yes the Doctor was a stubborn old man and we would be there forever fighting. He said just because we took it did not mean we had to do it, and that we wouldn't do it. But the thought of not getting what I wanted and being so pressured into doing what the doctor wanted shook me up, and made me feel vulnerable again and that this would end up being like my last births. She was due to be induced on Wednesday and this was a Friday. Sooo.. yep, I cried all the way home again.. what a surprise!!! Hahaha but this time I had Christa to call to calm my fears and help me feel that it would all be ok. I went home and listened to a fear clearing session Hypnobabies track and tried to get positive again. Solange came over and asked me how it went and I told her how it was the worst thing for me – it was hard for me not to be upset. That night Martin and I were playing a board game and she brought over some oil that she had sniffed and rubbed on her stomach when she was overdue with Ivy. I rubbed it on my tummy and smelled it a bit before we went to bed.
In the morning it didn't feel like anything was happening and the oil hadn't done anything however, at 11am I started getting waves (contractions) about 10-15 mins apart – nothing too major. We went shopping and when they would come I would just sit down and relax, or stop where I was. We came home and had lunch and I had a nap. The pressure waves continued to come, but they were not intense so I just did things normally. We had a session of Stake Conference (a church meeting) that night and I had organised to go – so I went. I had pressure waves throughout the whole meeting about 8-10 minutes apart – I was next to my husband who would time them. When they came I would just turn my light switch off and relax. Then when they finished I would drink some water and go back to listening. I was in the 4th row from the front and President Simpson can only see 4 rows in – I apologised to him afterwards if he saw me sleeping during his talk but I was actually just having contractions hahahahaha! I should have sat 5 rows back. After that, I went home and ate some warm weet-bix for dinner while Martin went to pick up our kids. I watched some of Get Smart and had a laugh and then decided I should probably go to sleep in case something happened and I needed my energy. During pregnancy I read another Hypnobabies story about a mother who slept through her contractions and had her baby at 6:12am the next morning while in the bathroom. That sounded good to me, so I would 'tell' my baby/body to have pressure waves through the night so I could sleep through them and then baby could come in the morning when I had energy hahahahha.. At about 9:40pm I messaged Christa that I was having pressure waves about 8 minutes apart but that I would probably be there awhile so don't worry but just be on alert. I listened to 'Easy First Stage' and 'Birthing Day Affirmations' and rested. This was fine until about 2-2:30am when it started to be uncomfortable for me just lying in bed. Martin gave me a Priesthood Blessing that this would be fast, easy and comfortable for me. Then he ran a bath for me and we timed them and talked and laughed – then I showered and went back to the bedroom to relax. At around 3:30 they started getting pretty intense, so Martin called Christa to make her way over since she lives about half an hour away from us. She was here around 4:15am I think and this was where my pressure waves were getting more powerful. The track kept saying 'you welcome these powerful pressure waves' and Martin kept saying to envision my baby being here soon, but I was not enjoying the powerful pressure waves and I wasn't even sure I wanted to have a baby anymore hahahhaa.. I started to doubt myself. I started thinking about Celeste's birth and how I felt I was at this stage for 3 days and nothing happened. I started thinking about that doctor who suggested that my body can't go into labour on its own and I would need intervention. I started wondering how long this was going to last and if I could actually do this. Martin and Christa provided much assurance. Christa would put counter pressure on my back during waves and this eased the intensity. My mum came after 5 with our babysitters and I was asking when we should head over to the hospital. Christa said whenever I felt we should – but secretly, I wanted to just have my baby at home. I feared that going to the hospital I would most likely have to fight, and I was not looking forward to it. I wanted my fast easy birth in the bathroom! I asked if we could just NOT go, but Christa was like 'Ummm if we don't go does that mean you are going to have a baby here?' I knew we had to go and replied reluctantly 'Alright then.' Cue: Sadness! LOL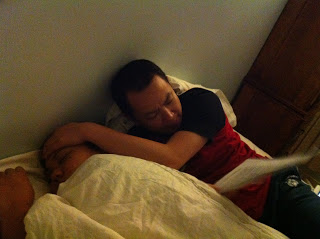 This is me having a pressure wave in bed and Martin reading scripts and cue words to me. He was so good and I loved that Hypnobabies helps Daddys be a part of it and learn how to help mummys relax - we really did this together!
At 5:45 we started heading to the hospital – I had 3 pressure waves just on the way to the car. At the third at the car I started peeing – luckily I had brought a towel for the seat haha. I had another 3 or 4 on the way to the hospital – peeing all the while. Martin was in the backseat with me giving his cue words and talking me through. I started to get pretty vocal – it must've sounded bad because Mum was driving and started to speed.. poor mum! We got to the hospital and I was still having pressure waves all the way down the corridor – whose smart idea it was to put the birthing unit so far away I do not know! But I had about 3 or 4 in the corridor and I peed all the while again. Poor janitor. I remember having a pw in the foyer and a lady walked past smiling and said 'You'll get there.' I remember thinking 'Can you please leave me alone?' hahaha – mainly because I looked like the biggest fresh – my hair was up in a messy bun, jandals, I had a lava lava on that was tied at the front and open, I wasn't wearing a bra either hahahaa.. so fun! We got to the door of the delivery suite and Martin rang the buzzer – just then I had another pressure wave and my body told me it wanted to push – so I started to push. Unfortunately, once again, I pushed in the wrong area again and pushed something else out instead. They let us in and for some reason again decided it would be a great idea to make me walk to the other end of the corridor to another delivery room. So we walked, and pw'ed and pushed some more. When I got to the door of the delivery room, there were 2 midwives with gloves on by the bed and they told me to get on so they could check me (yep, an internal..ugh.), but I had something in my pants and there was no way I was getting on the bed – I just put up my hand and said 'I'm going to the shower.' This was at about 6 something. Martin cleaned me and kept the shower water running on me since that felt good – and for some reason I felt like it would be better without clothes on so I just took everything off HAHAHAHAH no shame! Poor Christa! Martin and my mum have seen it all before as have the midwives I assume. My body just took over and I did whatever felt right – it felt right to squat and the urges to push kept coming, so whenever they did I would push. I think it was only one or two pushes after I got in the shower that they saw her head coming out. One of the midwives put her hand down there to catch baby but it felt so uncomfortable I asked her to go away (again, if I had been in a 'thinking before I acted' state I don't think I would have been as rude??). So instead they told Martin to put his hand down there. He asked for a glove – HAHAHHAHA my husband is so slack to me! I heard one of the midwives say 'Ummm that's your WIFE.' HAHAHHAAHHA.. I remember closing my eyes and smiling and saying softly 'Come on, baby.' It felt like me and her were in this together and we were going to be united soon after all this work and preparation together. I gave her another big push according to what my body felt like doing and she was out – Martin caught our baby and put her on my chest. It was over! It was 6:20am. I looked at this crying baby that I held close to my chest and I just fell in love – all over again. Grace was absolutely perfect and oh so cute and just darling!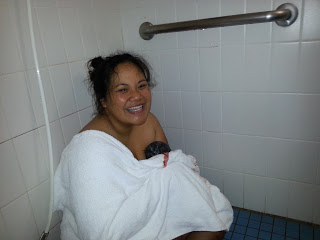 One of my 'I can't believe we just did it!' moments - on the shower floor hahaha..
It felt soooo surreal! I was just like 'I just had a baby! I am the mother of three!' I could not believe it was over and that it HAD been easy and fast and NOT painful at all – but very intense and powerful. My body had done it!! I was like 'Take THAT, silly doctor!' Without intervention, without any dumb internals (HOORAY!), without any 'pain relief'. We waited for her cord to stop pulsating before we cut it and then we waited for third stage. Third stage was the same as second stage in intensity and Martin used Hypnobabies cues throughout it - but about 20 minutes later, my placenta naturally detached itself as well. I felt so energised afterwards and extremely hungry! Grace was 4.1kgs and I tore a little but it was so minimal that I didn't need stitches – for the first time ever. Yay, body! My recovery has been the best of all my births as well. Isn't the body just amazing? Hooray for bodys! Hooray for Hypnobabies!
The midwife said afterwards we should have just had her at home, since we just came to push hahaha – maybe for my next one! Now that I know that I CAN do this and I also know HOW to do this comfortably and without pain, I am already looking forward to falling in love at first sight again for the fourth time.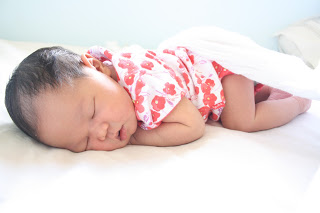 Yep, I'm in love!
Christine's birth was an amazing learning curve for me. It was an honour to witness her strength and perseverance. And it was humbling to learn how to truly surrender when things aren't going to plan. I also learned about my physical limits and reflected on how I could keep my energy up during a really long labour. Congratulations Chris and Simon - you were an awesome team. Christa xxxx

******************************************************************************************************************
Birth Story of Azrielle, the journey of a VBAC turned empowering positive CBAC! by Christine Hornstra
After my first birth where I did not know as much about birth & that the hospital system doesn't always know best, I had decided that I wanted my labour to start naturally. My first birth ended in a cesarean section, as when the hospital tried to induce me due to my pregnancy being 'overdue' my son (Xavier) went into distress, just from the cervidil tape. I felt that a part of me was missing, that I had been denied a right to experience labour. All of this led me to the choices I made for my next birth.
I was sure throughout my whole pregnancy that I would not go past 40weeks this time, so as that 'due date' got closer & closer, I got more & more anxious! Then when it passed it was a bit disheartening! I knew that being a VBAC this time would mean that the pressure would be on if I reached 41weeks. So when I did & there was still no baby in sight I had to then decide my options. I was still set on letting my body & baby decide on when the right time would be, so I consented to going in every couple of days for monitoring. Each of these were picture perfect, my baby was very content & happy in my oven! Although this did not stop one of the OB's trying to scare my husband & I into induction. At this stage I was only 41+5! After this experience my husband changed from being happy to follow what I wanted, to being determined that we would not be inducing, even doing his own research, so he was better informed to back me up if we had another situation like that!
My labour began on the Friday night (41+6); both my husband & I were very excited! At its peak my contractions were 5mins apart, lasting for at least 1min. So we had messaged our hospital midwife (Janelle) & doula (Christa). I felt I was coping well, so didn't see the need for my doula to come round yet. Then just before sunrise, my contractions slowed down. By the time the sun was up, they had stopped completely! We were a little disheartened, but I had read of this happening, so tried to still be positive about the fact that we were getting closer. When the same thing happened again Saturday and Sunday night, I was starting to get really down. We had sent Xavier to stay with Grandma and Opa from the Wednesday night, as we were sure we would have had a baby by this time!
At this point I was in contact with my doula Christa multiple times a day. She was amazing at keeping me focused & giving me encouragement to stick with my decisions. On the Saturday we had another appointment for monitoring, this time we were more prepared. Christa came along with us for support & I had spoken with my midwife about the last appointment & how we felt regarding it. Luckily for us, the Ob we saw that day was much more respectful! I was getting desperate at this stage! Every natural induction method was not working! I had tried all the well known methods, including acupuncture. After 3 sessions, still no baby!
On the Sunday Xavier came back home, as I missed him too much! Once again the contractions started again the Sunday night. But on Monday morning they didn't stop completely. They were only random, but still hanging around! I was also getting snappy with Xavier. I tried to have a lay down in the afternoon, while Xavier slept, but I was awaken by more contractions after only about 1hr of rest. When I heard Xavier waking from his nap, I decided I needed to call my husband home, as I wasn't able to think about trying to take care of him. I knew this ment something more was happening, but after days of starts & stops I didn't want to get my hopes up!
That night (Monday night) my contractions had been building from the afternoon & actually got regular again. This was the first time we had gotten a regular pattern since Friday night! Christa was sure this would be the night. But then once again they slowed down come sunrise! By 9am that morning Christa thought we needed to get together, so by about 10am Christa & her friend Alex (who is also a doula & a kinesiologist) came round to see if there was anything we could do. Alex asked if she could try moving my hip around. I was still getting random contractions at this time, but they were few & far between. By about 12pm, Christa had gone to drop her son off when Alex did the movement with my hip. We did one side, then I changed sides on the bed & we did the other side. Just as Alex was finished I felt bub give a really big kick, then felt a pop that was slightly painful. Then in 1 big gush I felt like someone was pouring a hot water bottle out of me, MY WATERS HAD BROKEN!! Just as Christa arrived back... THIS WAS PROGRESS!!!
Not long after I had processed that my waters had actually broken, my contractions really kicked in! There were only a couple of minutes in between each one. The loose dress I had been wearing was rather wet now, so I decided to jump in the shower to both clean off and to help ease the waves. We rang our midwife (who was now Nicole because Janelle had gone on holidays!) to let her know. She had just finished a birth, so told us she would go home for some rest and to let her know when we were heading to the hospital. We also rang Opa to come pick Xavier up, but as he was working it was going to take a little time for him to arrive. So I asked Simon to call my sister, as she was much closer and could at least stay with him if we needed to go. Xavier was having his nap while all this was going on, but not long after getting in the shower my moans woke him up. Once he saw I was in the shower he decided he wanted to join me. Simon was stroking my back to help, so Xavier decided to do the same. Just as he was doing so another contraction came & he got scared, thinking he had hurt his mummy! By now my sister had arrived & was able to take look after Xavier.
Pretty soon Simon decided it was time to go to the hospital, as my contractions were still very close together. I was well & truly into it, so had no idea if it was time to go or not! The car ride was horrible! I felt every little bump, turn, stop & start! It also felt like it was the longest car ride of my life (even though we only live 20mins from the hospital!)! By the time we arrived, my contractions had slowed down. We got into the birthing room & I did my best to find my groove again. We had requested a bath, but there wasn't any available when we arrived. I tried the shower, but the water was luke warm at best, so got out pretty quickly & put my bath robe on (that someone must have brought with us, coz it wasn't packed in the bag). From there I tried the bed, using the raised top & pillows to try & get comfortable. Once I found my groove I lost all sense of time & anything that was going on around me. I went with the flow of my body. I remember Christa stroking my back gently, but when my husband tried, it felt like sandpaper being rubbed over me! I can't say how far apart my contractions were at this point, as I was well into my own little world. I asked for an exam, just to reassure myself. I was 6cm (Christa later told me she was sure she would be home for dinner!). My contractions started to slow down at one point & I was falling asleep in between. I noticed the room got darker, so knew it was getting into night time. Nicole advised me that my temperature was high & tried to get the robe off me, but I felt so cold without it on. We compromised & I took my arm out. Eventually it came off all together. Time went by & sometime later in the night I asked if there was a bath available yet. Nicole checked & came back saying there was one available, but I would have to wear the monitor belts, as there was a slight amount of meconium in the waters. I agreed, anything to be able to get into a warm bath! By midnight Nicole advised us that she was no longer allowed to stay, as she had been on for 24hrs by that time. But there was another caseload midwife for me, Geisha, who could take over. I was disappointed, but understood & I still had Christa with me. Getting into the bath was heavenly! My contractions were coming strong & regular. After a little while I started getting a feeling of wanting to push soon, I was told to wait until it felt like I couldn't hold on anymore, then it would be time! The lower monitor was digging in with each contraction, so I asked 'if I'm feeling like I want to push soon, could I take it off?' Geisha said that was fine, as I'd had it on for a while & everything was fine. Not long after that, my contractions slowed AGAIN! So I rested in between, even falling asleep, only to be awaken by another one. They slowed down so much I was coming out of my world. I looked over to Simon & Christa who were sitting next to the bath telling me I was doing awesome, all the while struggling to stay awake! It was at that point I realised for the first time how long I had been going! But I hung in there, sleeping when I could & asking for the bath to be warmed up when I felt cool. Geisha was worried about me being dehydrated, as I had not eaten & was unable to make myself drink. My stomach just didn't want anything in it! We tried watered down apple juice, but it just made my mouth drier & my stomach not want it more! I'd also had trouble peeing, I think bubs head was in the way (coz no matter how hard I tried to let go, nothing would come out!), so I'd had a couple of in & out catheters before the bath & asked for another one. I was definitely dehydrated, so we decided to put a drip in, to get my fluids up. After a while I started feeling better, but I realised I had lost the urge to push. I asked for a check, I was 9cms. My last check had been 4hrs earlier & then I was 8cms, could I do this for another 4hrs? Then when I did get a contraction it felt like bubs was trying to push up & out the top of my stomach (aliens movie style! :P). I was feeling something was wrong. I was also totally worn out; physically, mentally & emotionally. The choices ran thru my head: wait it out, try an epidural or have another caesar. But no matter the option, I could not shake the feeling that something wasn't right. So I spoke up & said I wanted another Caesar. Simon tried to talk me out of it, reminding me of the recovery, but I couldn't be swayed, something wasn't right! Geisha came in to discuss it with me & when she realised it was what I wanted, she went out to speak with the ob. She came back in & told me that the ob on at the time was very pro Caesar for VBAC women, but if I waited 20 more minutes, the next Dr on was more pro epidural & a small dose of syntocinon. I didn't see the use in waiting; I'd made up my mind! Christa & Simon helped me out of the bath & to dry off. The Dr came in & tried to talk me into having an epidural & getting some sleep. But I still listened to my instincts & they were telling me it wouldn't make a difference. So for the 2nd time, I was prepped for surgery.
It was ok this time, I knew what to expect. It took a while to get me ready & into the operating room, yet my contractions did not get any closer again. From the time in the birthing suite to when they were injecting the spinal block I had maybe 3 or 4 contractions. Before I went in the ob that was going to do the op came to say hello. I was extremely relieved to see it was the only Dr who had been nice & respectful to Simon & I during our 'post dates' monitoring's! (Dr Cristiana) The surgery went well, I requested to keep baby in with me, to get skin to skin & delayed cord clamping. The only thing I didn't get was the delayed cord clamping. But I did get to see her as soon as they had her out, as one of the attendees brought her straight around the curtain & showed her to us. She was all covered in goop & looking just precious! After I got to hold her on my chest, she went to the other side of the room for her checks, with daddy in toe. I could hear her crying, so I called out for Simon to talk to her. I heard him say 'hello Azrielle, its daddy' & just like that she stopped crying. Daddy's little girl already!
Just before I left the OR Cristiana came up to me & told me I had made the right choice. They were expecting to have to lift her out of pelvis first, but she had already moved up, so she was easy to get out. After being engaged for over 6weeks & all the pre labour, followed by 19hrs of active labour, my cheeky little miss went the wrong way! She also told me her head had swollen & that the lower part of my uterus was close to separating. I was so glad I listened to my instincts!
Azrielle Jamie Hornstra was born 9.21am 10/10/12, 4.08kg, 56cms long, 34cm head circumference & just perfect! She wasn't even wrinkled from being in the bath a bit too long! I may have not gotten a VBAC, but I did get everything else I needed. I was not induced; I went into labour when my body & baby were ready. My baby chose her birthday & what a date she picked! I love you Azrielle, you did an amazing job coming into this world!
Ellen had her baby August 3, 2011.  Here is her story in her own words
************************************************************************************
First of all I would like to start out by saying what an amazing help Christa was in the whole preparation and birthing process! I took classes with her and also had her present for the birth of my child and I truly believe that without her assistance and knowledge that I may have had a very different outcome from the natural birth that I had.
I was so excited to find out that I was pregnant as it was very much planned. I went into it with anticipation but I found that I encountered some struggles throughout my pregnancy. I have a history of depression and anxiety and it became so severe by the end that I truly believed that the only way that I was capable of giving birth was to have a complete epidural or a planned caesarean section. I had been taking classes with Christa to increase my ability to have a natural birth and so this frame of mind that I had left me feeling devastated and disempowered.
I continued to try hypnobirthing and meditation leading up to the birth and by learning about my body's true capabilities and the wonderful benefits of having a natural birth, I still held onto hope that with the help of Christa and my husband that I would find my inner strength. I would also imagine my perfect birth, no more than 5 hours labour and natural.
I had been having silent contractions for a week and I was starting to feel a bit crampy on my due day so by that night my pressure waves came suddenly and strong. My husband, Regan, had gone to bed and so I decided to time them myself before I woke him up. Within that first hour I was already experiencing 1 minute contractions for 4 minutes apart. I was astounded that I was as far along as I was. I woke up Regan and he timed my pressure waves which were becoming longer and closer together. I was coping by steadily breathing and rocking on my knees. After consulting with my midwife, Jo, several times over the phone I knew that it was time to head to the hospital, I called Christa and told her to meet us there.
Once in the delivery suite I knelt on the bed holding onto the headboard as the intensity grew. This was it! This was the real thing and I went inside of myself, breathing and focussing. I used all of my energy to keep my cervix relaxed. I then decided to go to the bath as that is where I planned to give birth. Before I got into the bath I reached transition, where you feel that what is required is beyond your capabilities but is soon followed by the urge to push. It was at that time that I asked for an epidural and a C-section but Christa assured me that my body was doing everything it needed to do and that I was doing so well.
I then got out of the bath and was checked by my midwife and told that I was 7-8 cm dilated and that I was doing great. I knelt on pillows on the floor over the couch and after pushing for a while my waters broke with such great force that I was startled but also excited as I felt that it was another step closer! As I pushed, Regan, Christa and Jo massaged me which helped to relax me and if I would go to make any high pitched noises or breath faster, Christa would simply make low noises or slowly breathe and that would cue me to follow. In that dimly lit room I had only 3 people, relaxing music and a determination to push this baby out naturally! After pushing for a while they recommended that I try standing up and leaning on the bed to help the baby come so I did. I continued to use all of my energy in pushing and when they started to put a belly monitor on to check the baby's heart rate it gave me more ambition to push harder for the health of my baby. Finally I felt the head crowning and for my own assurance I leant down and felt the baby's head with my hand, he was coming!!! I gave a few almighty pushes and after a few minutes his head emerged. Then I continued to push and his body followed. The feeling of that little body coming out was so bizarre but the relief was amazing.
With Regan and Christa by my side, my midwife had caught Noah in her hands and as she passed him through my legs, told me to pick him up. I was scared that I would drop him as he was slippery but as Regan helped to pull him up to me I cried. I cried from the relief but more for the joy that I felt!
I had done it! I had a beautiful little boy and I had done it completely naturally and not just any baby but a 5 kg (11 lb 2 oz) baby and for my first one with a labour spanning 5 hours. This had gone against all of the things that I had heard about child birth from TV and other mums. I had heard that it is usual that your first birth will be very long and that if the baby is large that they will usually have to give you a C-section.
I sat on the bed with him and tried to breast feed him straight away with no luck but then I had a lot of chest to chest bonding which was amazing. I had fallen in love all over again and with a baby that I had only just met. After a few hours of cuddling they had to take him away to intensive care because he had fluid in his lungs but that cleared up after a few days. I felt exhausted but I felt empowered, proud, closer to my husband and so grateful to Christa and Jo for helping me to have the birth I truly wanted. I know that if I had an epidural that I would not have been able to push Noah out, I needed all of my power and feeling to be able to do that for him. I felt like I had given him the gift of life and the best start to that life that I could possibly give him.